NEW BASKETBALL COACH HIRED IN BRIDGEPORT – Bridgeport ISD trustees this week approved the hire of Frisco Liberty assistant Jordan Sarten to lead the Sissies basketball program. Sarten will replace former girls basketball coach Dallas Taylor, who took the same position at Northwest in April. Before accepting the head coaching position, Sarten worked as an assistant under Liberty head coach Ross Reedy last year. Reedy and Sarten led the Redhawks to a 32-11 record and a state tournament run before falling in the 5A state championship game 47-42 to Amarillo.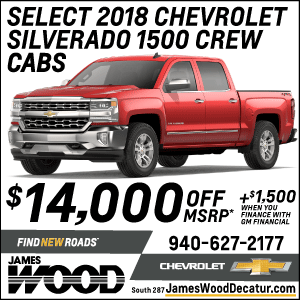 BASEBALL SCHEDULE CHANGE – Decatur's 4A Region I quarterfinal with Iowa Park has been changed. The Eagles and Hawks will play Game 1 at 4:30 p.m. today with Game 2 immediately following at Bowie High School. Game 3, if necessary, is TBD. The series was changed due to the risk for severe weather Saturday.
MARY'S GIFT – The Mary's Gift program funded through Wise Health Foundation provides free 3D mammograms for uninsured and underinsured women and men of Wise County. The next date for appointments is May 22. Visit wisehealthfoundation.com to learn more or call Wise Health System Imaging Center at 940-626-1329 to apply and schedule your appointment.
CHAMBER LUNCHEON – The Decatur Chamber of Commerce luncheon is 11:30 a.m. Tuesday at the Decatur Conference Center.
GRADUATION DAY – Victory Christian Academy will hold its graduation ceremony 7 tonight in the VCA gym.
LIBRARY ACTIVITY – Kids of all ages are invited to make a sunflower out of newspaper at the Chico Public Library 4-5 p.m. today. Call Michelle at 940-644-2330.
BOONSTOCK – Boonstock, the annual fundraiser for the Boonsville-Balsora Volunteer Fire Department, is Saturday. The fun starts at 5 p.m. at the Boonsville Station and Community Center with a brisket and pulled pork meal with all the fixings, including desserts (dinner cost is by donation). There will be a bounce house (weather permitting) for the kids, and both silent and live auctions. Carter BloodCare will be onsite from 3-6:45 p.m. Call Robert at 940-393-1550 to set up your time to donate blood.
HORSE CLUB – The Wise County 4-H Horse Club will meet 6:30 p.m. today at the NRS training center classroom.
KINDERGARTEN REGISTRATION – Bridgeport Elementary School will be having pre-K and kindergarten registration for new students from 4-6:30 p.m. today at the school. To register, bring birth certificate, social security card, current shot record, proof of residence, picture ID of the person doing the enrollment and the student. Call 940-683-5955.
FUNERALS – Service for Shirley E. McWhirter, 80, of Decatur is 10 a.m. Friday at Hawkins Funeral Home in Decatur with burial at Oaklawn Cemetery. Family visitation is 6-8 tonight at the funeral home.
GRAVESIDE for Ruth Elizabeth Pearson, the infant daughter of Jordan and Lexie Pearson of Springtown, is 11 a.m. Saturday at Oaklawn Cemetery in Decatur. Memorial is 1 p.m. Saturday at U-Turn World Ministries Church in Chico. Hawkins-Decatur is handling arrangements.
MEMORIAL service for Lloyd Grimes Jr., 83, of Newark is 4 p.m. Saturday at First Baptist Church Newark. Hawkins-Decatur is handling arrangements.
FUNERAL for Laura Milena Rueda, 47, of Rhome is 10:30 a.m. today at First Baptist Church in Bridgeport. Hawkins Funeral Home in Bridgeport is handling arrangements.
SERVICE for Iona V. Reed, 98, of Aurora is pending at Hawkins Funeral Home in Boyd.
SERVICE for Janice Derrington, 75, of Bridgeport is 10 a.m. Saturday at Jones Family Funeral Home in Bridgeport with burial at noon Saturday at Cottonwood Cemetery in Bryson.
SERVICE for Betty Jean Edgington, 94, of Chico will be held at a later date. Jones-Bridgeport is handling arrangements.
SERVICE for John Warren Sibley, 76, of Decatur is 10 a.m. Friday at Oaklawn Cemetery in Decatur. Lucas Funeral Home in Hurst is handling arrangements.