STORMS POSSIBLE SATURDAY – Thunderstorms are expected to develop to the west late tonight and move into our area after midnight, according to the National Weather Service. The storms could become strong or severe with damaging wind possible. Some hail is also possible with the strongest storms. Rain chances for Saturday are 80 percent. After a sunny Sunday, rain chances return early next week.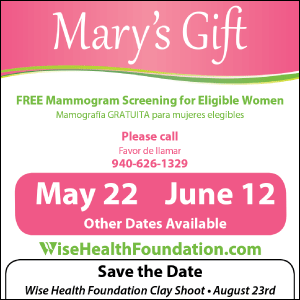 EAGLES SWEPT – Iowa Park swept Decatur in the 4A Region I quarterfinal Thursday night in Bowie. The Eagles lost 6-2 in Game 1 and 3-2 in Game 2. Decatur's season ends at 28-7.
SOFTBALL PLAYOFFS – The Decatur Lady Eagles will play Canyon today in the 4A Region I semifinal in a one-game series. First pitch is set for 6 p.m. in Hermleigh.
STATE TENNIS – Decatur's Lenka Okasova will play for the 4A girls singles tennis title at 8:30 a.m. at Texas A&M. Okasova won her quarterfinal and semifinal matches in straight sets. Slidell's Jaden Coston will play for the Class A girls singles title, also at 8:30 a.m.
BRIDGEPORT GRADUATION – Bridgeport High School will hold its graduation ceremony 10 a.m. Saturday in the University of North Texas Coliseum in Denton.
SENIOR SENDOFF – Decatur High School will hold Senior Sendoff at 2 p.m. today.
BARBECUE COOKOFF – Rhome Parks and Recreation is having a carnival and barbecue cookoff at the civic pavilion, 204 E. Morris St., today and Saturday. Tonight's activities start at 4 p.m. and run through 10 with rides, games and prizes. On Saturday, festivities are 11 a.m.-10 p.m. Barbecue judging is at 1:30 p.m., and meals will be served at 2 p.m. for $10 per plate.
SATURDAY ON THE SQUARE – Saturday on the Square is Saturday and will feature vendors and artists along State Street. There will be live music and food.
FARM FESTIVAL RESCHEDULED – The Jerry Askey Memorial Farm Festival originally scheduled for Saturday has been rescheduled for Saturday, June 8.
DEMOCRATIC WOMEN MEETING – The Texas Democratic Women of Rural North Texas will hold its monthly meeting 2 p.m. Saturday at Chef Point Restaurant in Watauga. Guest speaker will be Greg Alvord, who is running for Texas State Board of Education.
VETERANS BREAKFAST – The Wise County Veterans Group Breakfast is Saturday at the Decatur Conference Center. Breakfast is 8 a.m., but veterans are invited to arrive at 7:30 for visiting and coffee. Cost is $8.
CRAFT NIGHT – Chico Public Library will host Ladies Craft Night today. Registration is required. Call 940-644-2330. The library will host a book sale 10 a.m.-2 p.m. Saturday at Chico City Hall, 400 S. Hovey St. All proceeds benefit the library.
BOONSTOCK – Boonstock, the annual fundraiser for the Boonsville-Balsora Volunteer Fire Department, is Saturday. The fun starts at 5 p.m. at the Boonsville Station and Community Center with a brisket and pulled pork meal with all the fixings, including desserts (dinner cost is by donation). There will be a bounce house (weather permitting) for the kids, and both silent and live auctions. Carter BloodCare will be onsite from 3-6:45 p.m. Call Robert at 940-393-1550 to set up your time to donate blood.
CLEAN UP DAY – The City of Lake Bridgeport City Clean Up is 8 a.m.-3 p.m. Saturday for city residents. The truck will be in front of city hall.
CEMETERY MEETING – Pleasant Hill Cemetery's annual meeting is Saturday. Lunch will be served at 12:30 p.m. followed by the annual business meeting.
FUNERALS – Service for Shirley E. McWhirter, 80, of Decatur is 10 a.m. today at Hawkins Funeral Home in Decatur with burial at Oaklawn Cemetery.
GRAVESIDE for Ruth Elizabeth Pearson, the infant daughter of Jordan and Lexie Pearson of Springtown, is 11 a.m. Saturday at Oaklawn Cemetery in Decatur. Memorial is 1 p.m. Saturday at U-Turn World Ministries Church in Chico. Hawkins-Decatur is handling arrangements.
MEMORIAL service for Lloyd Grimes Jr., 83, of Newark is 4 p.m. Saturday at First Baptist Church Newark. Hawkins -Decatur is handling arrangements.
SERVICE for Victor Deleon, 54, of Chico is pending at Hawkins Funeral Home in Bridgeport.
FUNERAL for Iona V. Reed, 98, of Aurora is 1 p.m. Saturday at Aurora Baptist Church with graveside service 1 p.m. Tuesday at Edith Ford Cemetery in Canadian. Family visitation is 6-8 tonight at Hawkins Funeral Home in Boyd.
SERVICE for Janice Derrington, 75, of Bridgeport is 10 a.m. Saturday at Jones Family Funeral Home in Bridgeport with burial at noon Saturday at Cottonwood Cemetery in Bryson.
SERVICE for Betty Edgington, 94, of Chico will be held at a later date. Jones-Bridgeport is handling arrangements.
SERVICE for John Warren Sibley, 76, of Decatur is 10 a.m. today at Oaklawn Cemetery in Decatur. Lucas Funeral Home in Hurst is handling arrangements.