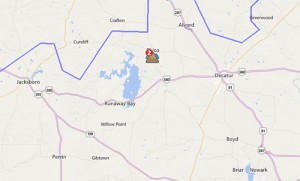 By Jimmy Alford
jalford@wcmessenger.com
UPDATE: Power was reported restored at about 10:40 p.m. Oncor state a fallen tree was removed and the power line was repaired. Power was out for more than three hours.
Wind speeds over 20 mph and temperatures in the mid 20s caused more than 500 to lose power Wednesday night in Chico.
At about 7:30 p.m., Oncor representative Sabrina Easley said crews were tracking down the cause of the outage. Residents' power was still listed out as of 10 p.m.
"It's pretty much affecting the whole town of Chico," Easley said.
Even Wise County Judge J.D. Clark tweeted his home's power was out. Other outages were reported in Runaway Bay and Boonsville, but those outages only lasted about half an hour. People can track outages by going to http://stormcenter.oncor.com/default.html.
Roadways began to ice over after 5 p.m. in Wise County, prompting the Bridgeport Fire Department Twitter feed to advise followers that roads were becoming slick. An 18-wheeler was reported jackknifed around 8 p.m., according to the same Twitter feed. To check road conditions, go to http://www.drivetexas.org or call TxDOT at 1-800-452-9292.
Print This Page