Motorists traveling on U.S. 81/287 might notice road work at several locations starting next month.
The Texas Transportation Coalition recently approved a couple of projects related to the highway that are designed to improve safety.
One project will include the addition of acceleration and deceleration lanes at high traffic areas along the roadway, including:
northbound at the Navigator truck stop just south of Alvord
southbound at Catfish O'Harlie's just north of Decatur
northbound and southbound at County Road 4228 just south of Decatur
northbound and southbound at County Road 4421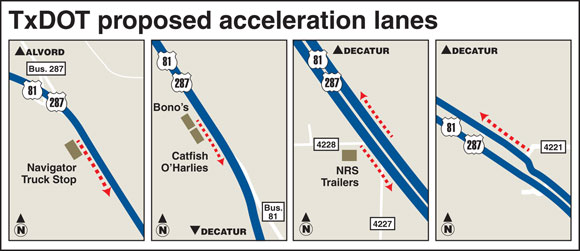 "The reason for the acceleration lanes is to allow a vehicle to get to highway speed before entering the main lanes from an access point," said Natalie Galindo, public information officer for the Texas Department of Transportation. "Conversely, deceleration lanes allow traffic leaving the highway to slow down separate from the vehicles traveling at highway speeds without using the shoulder or turning directly from the main lane of the highway. Acceleration/deceleration lanes improve safety by reducing rear-end accidents. This becomes more important with high volumes of heavy truck traffic requiring longer distances to slow down when following a vehicle slowing to turn and speed up when entering a highway."
The work at CR 4421 will also include a realignment of the northbound main lane curves. The area has been the sight of numerous accidents over the years.
It's "an opportunity to greatly improve sight distance and alignment of U.S. 81/287 by smoothing the curves and easing the grades," Galindo said. "By extending the transition to the south, the northbound lanes of U.S. 81/287 will become a single curve instead of the existing double curve."
The two crossovers in the area of CR 4421 will remain and also receive acceleration and deceleration lanes.
The $5 million project was awarded to Ed Bell Construction.
The second project is a hot mix overlay on the southbound lanes, two course treatment on the shoulders, addition of rumble strips and restriping from the Montague County line to Farm Road 1655. That $3.3 million project was awarded to Jagoe-Public Co.
In a press release announcing the two projects, TxDOT officials encourage motorists to slow down, pay attention to warning signs, avoid distractions and plan ahead.
The projects are expected to begin around March 1.