Paradise's water billing issues seem to have cleared after the city council opted to change disconnection procedures.
The council met Monday night and voted to extend city office hours on day of disconnection, as well as hiring a contract employee to work two hours a month reconnecting services. The motion passed 2-1, with Brad Largent and Terre Ward voting yes and Bob Gayan voting against. Roy Steel and Bill Schneck were absent.
Water disconnection procedures came under fire at last month's meeting after community members – and a couple of council members – had their services turned off due to billing issues in September.
Largent and Schneck both had their service disconnected. Largent said he regularly forgets to pay his water bill and needs to be reconnected, but his issue with the city's procedures boiled down to a delay in reconnection.
"I understand that we have to turn people's water off. The problem I have – the city has no way to turn people's water back on until the next day," Largent said. "I was cut off at 4:15 p.m., and if I had come up here and paid right then, my water would not have turned back on until 4 or 5 p.m. the next day.
"Twenty-four hours for someone to go without water is a long time when you have kids. I have a major problems with us turning off someone's water and not being able to turn it back on. That's huge."
Largent said several Paradise citizens voiced the same concerns, including three who were at the October meeting. He said the problem is affecting several in the community, and that is why he pushed for changes.
"I wasn't responding for myself," he said. "It wasn't a personal thing. Whenever people have to wait 24 hours to have services turned back on, it's ridiculous."
According to city records, disconnections have been an ongoing issue for several of the water department's about 200 customers.
In a 10-month period from January to October 2014, the water department cut services to an average of about six customers – 3 percent of its customers – each month. About 4.5 percent of the city's water customers have had services terminated more than once in that 10-month period, and 1 percent have had water shut off three times in 10 months.
The department cut no services to any customers in January or September. The absence of disconnections in September was directly related to the fact that billing materials were not delivered on time in August.
Then came October.
In the first week of October, water service was shut off to 18 customers in one day. For 16, it was restored the same day; another customer got water turned back on the following week. Of the 18 cutoffs in October, 17 were due to lack of payment. That represented 9 percent of the department's total customers.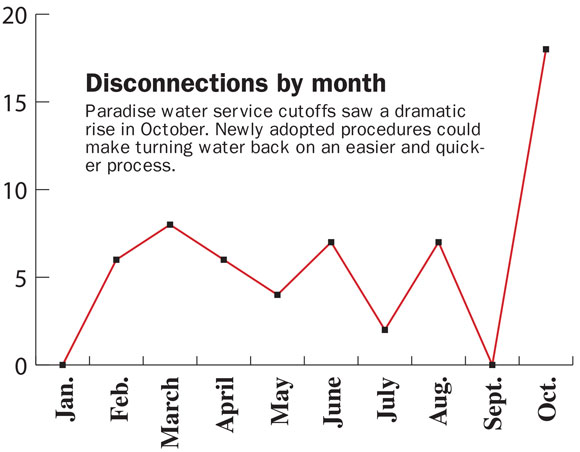 Before changing the disconnect procedure, city staff explored what nearby communities' practices are.
ALVORD
The city charges a 10 percent late fee for delinquent bills. The late fee is waived if the due date occurs on a weekend the bill is paid. Disconnection notices are mailed the following Monday and disconnections are completed during the last week of the month, but not on Friday.
It costs $35, plus the outstanding bill amount, to reconnect services. If the customer has made all payments by 5 p.m., water is turned on that day. If not, water is turned on the following day.
BRIDGEPORT
A 5 percent late fee is charged and added to the delinquent bills the day after the due date. Disconnection date varies, depending on when the initial bills are mailed. Billing is done near the first of each month. A disconnection notice is mailed, and customers have until 6 p.m. on the day of disconnection to pay before services are interrupted.
Reconnection costs $15, which is added to the outstanding bill. If payment is received by 6 p.m., the water is turned back on immediately. If it comes in after 6 p.m., services are restored the next day.
CHICO
A 10 percent late fee is assessed the day following the bill's due date. If no payment – or payment arrangement with partial payment – has been rendered after 60 days, services are disconnected on the 61st day without further notice.
A $50 reconnection fee is charged and must be paid along with the original bill before services are returned. If all payments are made before 3 p.m., services are restored that day. If not, services are turned on the following day.
DECATUR
Bills are past due after the 15th of the month and a 10 percent late fee is assessed beginning the next day. Customers are allowed to be past due for two months before the disconnection process begins. Disconnected customers are charged a $50 fee.
Customers can be charged an additional $100 fee to reconnect water services, but this is not being currently enforced, according to staff reports.
Prior to the Monday night meeting, Paradise mailed out water bills on the first of each month, and payment was required by the 15th. After the 15th, a $5 late fee was charged and payment was then required by the end of the month or services were shut off.
Disconnection procedures are carried out after the first of the month. If payment was made, water could then be turned back on the following day after 3 p.m.
The reason for the 24-hour delay is that the city does not employ water service personnel, but only has a contract water district employee who serves Paradise 16 hours a month. If that contractor works more than 16 hours or after 4 p.m., the city is billed $52 per hour for a minimum of two hours.
The city does have the ability to charge a $60 reconnect fee, but has chosen to waive that fee in most instances.