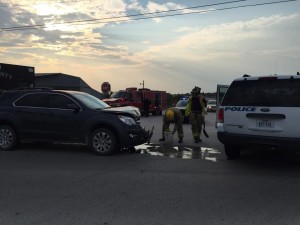 An accident on the Farm Road 51 overpass crossing U.S. 380 slowed traffic on the bridge Friday evening.
A Chevy Equinox struck a Nissan Acura on the overpass. Wise County Sheriff's Office Sgt. Wes Hughes said the passenger of the Equinox reported the driver in the vehicle was experiencing medical issues prior to the wreck. The driver of the Equinox was unconscious when officers arrived and will be transported to Wise Regional Health System.
Hughes said the driver of the Acura was conscious and may have suffered a minor head injury.
No names have been released at this time.
Print This Page