BRIDGEPORT HOSPITAL TO BECOME COMMUNITY HEALTH CLINIC – After losing $6.2 million in 19 months operating as a hospital, Wise Regional Health System will convert its Bridgeport campus to an urgent care/ambulatory surgery center in January 2015. The change, which will eliminate the emergency room, was approved Monday evening at a hospital board meeting and announced to employees Tuesday. Wise Regional CEO Steve Summers said the ER in Bridgeport has consistently seen about 400 patients a month, but surveys indicate 95 percent of those could still be treated in an urgent-care environment. The other 5 percent – most of whom come in with chest pains – are being transferred to the Decatur campus already, since the system's cardiac facilities are based there. Bridgeport, which will be staffed with nurse practitioners and operated as part of Wise Clinical Care Associates, will still have x-rays, suturing and other medical services – "everything an urgent-care clinic does," Summers said. He estimates the change will save the system about $2 million over the next 12 months. The ER will continue to operate through Dec. 31 and the urgent-care clinic will open Jan. 1 or 2.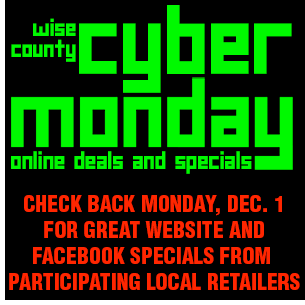 CHEER CAPTAIN IN MACY'S PARADE – Decatur varsity cheer captain Madison Grantham will be performing in the Macy's Thanksgiving Day Parade in New York City tomorrow. Grantham was invited to participate in the parade with Spirit of America Productions, and they will perform with KISS about 11 a.m. The parade starts at 9 a.m. and will air on NBC. Grantham, who has been in New York all week for rehearsals, is among 700 girls participating from across the U.S.
WATER MAIN BREAK – The water outage in Bridgeport Monday was in response to a blown-out water main at 16th and Irvin Street, according to city spokesperson Tiffany Evans. Houses surrounding the affected area were without water until about 8:15, but most of the city still had water, Evans said. The cause of the water main break appeared to be aging infrastructure and ground movement. "Thank you to those employees who worked hard to fix this issue as quickly as possible," Evans wrote in a Facebook post Monday night.
COUNTY HOLIDAY CLOSINGS – In observance of the Thanksgiving holiday, all Wise County administrative offices will be closed Thursday and Friday. Wise County dumpsites (Boyd, Chico, Cottondale, Decatur and Slidell) will close Thursday and Friday. All the dumpsites will reopen on Saturday with regular hours (7:30 a.m.-5:30 p.m.)
BRIDGEPORT HOLIDAY CLOSINGS – All city of Bridgeport offices will be closed Thursday and Friday for the Thanksgiving Holiday. The Bridgeport Library will be closed Thursday, Friday and Saturday. Normal operating hours will resume on Monday.
DECATUR HOOPS TEAMS WIN – The Decatur Eagles forced six turnovers and held Argyle to a pair of field goals during an 18-8 closing run in a 47-40 victory Tuesday. Parker Hicks scored 18 and Cade Lamirand 16. The Decatur Lady Eagles improved to 6-0 with a 58-48 win over Mineral Wells. Macen Stripling poured in 27 points and grabbed 10 rebounds. Shelby Drews scored 13.
BASKETBALL ROUNDUP – Girls: The Alvord Lady Bulldogs improved to 5-2 Tuesday with a 79-45 win over Henrietta. Cierra Rangel led four Alvord players in double figures with 15. Katie Clayborn scored 13, Brianna Ponder 12 and Paycee Edgett 10. The Chico Lady Dragons went on a 10-5 run in the third quarter to take the lead and held on for a 43-36 win over Perrin Tuesday. Whitney Renfro led Chico with 16 points. Alli York and Kylie Marburger added nine each. Caitlin Pruett tossed in 26 points and grabbed 12 rebounds as the Slidell Lady Greyhounds beat Valley View 59-47 Tuesday. Kayler Talamantes added 18 points and five boards. Kylie Franklin scored 13 and grabbed nine rebounds. Boys: The Chico Dragons used a 21-7 run in the second quarter to pull away in a 65-35 win over Perrin Tuesday. Jonathon Neighbors lead the Dragons with 16. Chris Gilmore added 15. Colleyville Heritage outscored Northwest 11-6 in the extra period for a 58-52 win Tuesday afternoon. Elijah Christman led Northwest with 15. Slidell beat Valley View 77-36 behind 20 points from Tyler Maynard, 15 from Khristian Talamantes and 12 from Dustin Davis.
SMALL BUSINESS SATURDAY – The fifth annual Small Business Saturday is a day dedicated to supporting local small businesses on one of the busiest shopping weekends of the year. Citizens are encouraged to shop at their favorite local stores this Saturday and help fuel the local economy.
TREE LIGHTING – The city of Bridgeport's Santa and the Stagecoach Annual Tree Lighting Event is 5:30-7 p.m. Monday, Dec. 1, at Bridgeport City Hall. It will include live entertainment, a photo opportunity with Santa Claus, "Frozen" characters, kid crafts, food trucks and holiday family fun. Call 940-683-3400 or visit www.cityofbridgeport.net.
HAPPY THANKSGIVING – There will be no Update Thursday due to the Thanksgiving holiday, but any breaking news will be posted at WCMessenger.com. Update will return Friday.
FUNERALS – Funeral for James Ray "Red" Martin, 83, of Montague is 10 a.m. today at the Church of Christ in Saint Jo. Arrangements are being handled by Scott Funeral Home in Saint Jo.
FUNERAL for Christina Parsons, 88, of Bridgeport will be held in Augusta, Ga. Jones Family Funeral Home in Bridgeport is handling arrangements.
FUNERAL for Roger Rhodes, 71, of Bridgeport is 10 a.m. Saturday at Cates Street Church of Christ in Bridgeport with burial at 2 p.m. Sunday at Pleasant Hill Cemetery in Plain Dealing, La. Family visitation is 6-8 p.m. Friday at Jones Family Funeral Home.
SERVICE for Peggy Barksdale, 76, of Bridgeport is 11 a.m. today at First Baptist Church in Justin with burial at Justin Cemetery. Hawkins Funeral Home in Bridgeport is handling arrangements.
SERVICE for Teddy Lee Moore, 57, is pending at Coker-Hawkins Funeral Home in Decatur.
SERVICE for Kimberly Todd, 31, of Decatur is pending at Coker-Hawkins.
SERVICE for Maudie Gilmore, 69, of Newark is pending at Christian-Hawkins Funeral Home in Boyd.
Print This Page