WINTER WEATHER EXPECTED TO RETURN – Rain was falling and the temperature was 45 degrees in Wise County at 7:45 a.m. as Update was going to press, but colder air will move in to the area today with the rain expected to turn into freezing rain and sleet by this afternoon. The temperature is expected to drop to around 28 by 5 p.m. Total daytime sleet accumulation of less than a half inch is possible, according to the National Weather Service. The sleet may transition into snow tonight and in the overnight hours with a low around 23. New snow and sleet accumulation of 2-4 inches are possible. Wise County is under a winter storm warning through noon Thursday. As of 7:30 a.m., local rainfall totals included 0.07 of an inch in Decatur and 0.05 in Bridgeport. If the weather causes any closures, cancellations or delays, we will post those as we are notified at WCMess.com/closings.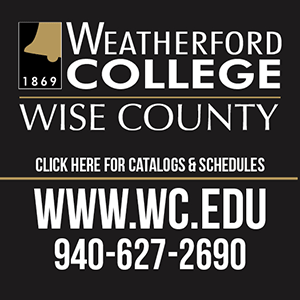 BULLS ADVANCE TO REGIONAL TOURNEY – The Bridgeport Bulls earned a 74-62 regional quarterfinal win over Kennedale last night in Fort Worth. Caleb Smith led the Bulls in scoring with 29, including 14 in the fourth quarter. Devonte Patterson had 18, Keenan Holdman 16 and Jacob Del Angel 11. The Bulls will face Levelland in the 4A Region I Semifinal at 7 p.m. Friday at the Rip Griffin Center on the campus of Texas Tech University in Lubbock. Abilene Wylie and Lubbock Estacado will be the other two teams in the tournament and will play after the Bridgeport/Levelland game.
JUDGE ADDRESSES ISSUES FACING COUNTY – County Judge J.D. Clark identified water and transportation as two of the biggest issues facing Wise County during a question-and-answer session at Tuesday's Decatur Chamber of Commerce luncheon at the Decatur Civic Center. "We pray of course for rain and that the lake will fill up, but we also need to be praying for some really innovative ideas and some new ways of doing business when it comes to water," Clark said. On the possibility of a covered rodeo arena at the Wise County Fairgrounds, Clark said, "I'd love to see a covered arena, but it all comes down to dollars and where does it fall in your priorities. I do think something like that is a perfect opportunity for some private/public partnerships." Read more from Tuesday's Q&A in the midweek Wise County Messenger on newsstands today.
YOUTH FAIR – Today's Wise County Youth Fair events at the Wise County Fairgrounds include the Market Lamb Show at 8 a.m. and the Dog Show at 10 a.m. Livestock will also move into the barns from 8 a.m.-4 p.m.
LEGAL AID CLINIC – Legal Aid of NorthWest Texas is moving its monthly clinic in Decatur from the Decatur Public Library to the First United Methodist Church of Decatur beginning Thursday. Clinic hours run 5-7 p.m. Applicants seeking information should call 940-383-1406.
KIDNEY WALK FUNDRAISER – Chili's Decatur will be hosting a Give Back Event Thursday benefiting Team Kynslee, who will be walking in the Fort Worth Kidney Walk. Go eat, or order take out, and tell your server that you are there to support Team Kynslee, and a percentage of your total will be donated to their team. You can also make a donation directly to their team at donate.kidney.org/goto/teamkynslee. All donations go directly to the National Kidney Foundation.
LEARN TO CROCHET AND KNIT – Decatur Public Library is offering free Learn to Crochet and Learn to Knit classes Thursday evenings in March and April, 6:15-7:45 p.m. Beginning March 5, bring your own crochet hook and a skein of yarn, and learn to crochet simple stitches and patterns. Knitting classes will be Thursdays in April; bring your own pair of knitting needles and yarn. Classes are free and open to all ages. No registration necessary. Call 940-393-0290, visit www.decaturpubliclibrary.com or stop by the library, 1700 FM 51 South.
FUNERALS – No service is scheduled for Shirley Briggs, 80, of Decatur. Jones Family Funeral Home in Bridgeport is handling arrangements.
MEMORIAL service for Larry McBride, 70, of Paradise is 2 p.m. today at Hawkins Funeral Home in Bridgeport.
FUNERAL for Dorothy L. Durham, 92, of Bridgeport is 5 p.m. today at Hawkins Chapel with private burial at DFW National Cemetery.
SERVICE for Rubin "RV" "Sonny" Martin, 84, of Bridgeport is pending at Hawkins-Bridgeport. SERVICE for Asie Lee Rhodes, 91, is pending at Coker-Hawkins Funeral Home in Decatur.
FUNERAL for Bobby Clifton Greer Sr., 79, of Decatur is 10 a.m. Friday at Coker-Hawkins Chapel. Family visitation is 6-8 p.m. Thursday at the funeral home.
FUNERAL for Charles Gordon King, 75, of Alvord is 2 p.m. Friday at First Baptist Church in Alvord with burial at Hopewell Cemetery. Family visitation is 6-8 p.m. Thursday at Coker-Hawkins.
MEMORIAL MASS for Ann Jolley, 74, of Decatur is 11 a.m. Saturday at Assumption of the Blessed Mary Catholic Church in Decatur. Family visitation is 6:30-8:30 p.m. Friday at the church. Coker-Hawkins is handling arrangements.
NO SERVICE is scheduled for Patsy Marie Hornberger, 72, of Decatur. Coker-Hawkins is handling arrangements.
Print This Page