DRUGS SEIZED IN TRAFFIC STOP – A traffic stop Tuesday afternoon led to the discovery of more than 170 pounds of marijuana. Wise County Sheriff Lane Akin said a vehicle was stopped around 3 p.m. southbound on U.S. 81/287 near Alvord. The sheriff's deputy and his K-9 partner searched the vehicle after the dog alerted to the scent of drugs. Inside the vehicle, the officer found 172 pounds of marijuana and 25 pounds of THC in five large pieces of luggage. John D. Hardwick, 52, of Oroville, Calif., was arrested for possession of marijuana 50-2,000 pounds and possession of a controlled substance in penalty group 2 in an amount greater than 400 grams. Akin said Hardwick was traveling from Oregon to Austin.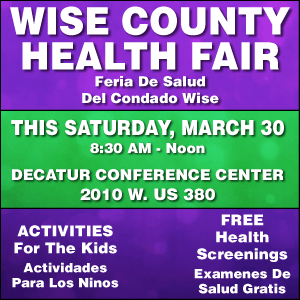 BOARD TAKES NO ACTION ON AD RESIGNATION – After nearly two hours in closed session Wednesday night, Chico ISD trustees took no action on the resignation of athletic director and head football coach Clayton Sanders. Chico Superintendent Don Elsom declined to comment on the situation after the meeting. Elsom also did not specify what Sanders' current employment status is with the district, only saying that he, "is not on campus right now." Trustee Brian Hand said the board was not made aware of Sanders' resignation until Wednesday night's meeting. He added a complaint was lodged by a coach against Sanders and Matthew Sawyer, the team's defensive coordinator, regarding their coaching tactics. "Sanders and Sawyer are currently suspended with pay," Hand said.
VENDOR APPLICATIONS AVAILABLE – Bridgeport Main Street and Bridgeport Chamber are still taking vendor applications for food and product vendors for Bridgeport Bark Bike & Brews on Saturday, April 6 in downtown Bridgeport. If interested, call Bridgeport Main Street at 940-683-3400 or email Tiffany Evans at tevans@cityofbridgeport.net.
NEW PLACE TO PAY TAXES – Friday is the last day to pay your taxes at the Wise County Appraisal District. Beginning Monday, all taxes will be collected at the Wise County Tax Office.
MARKET AND BAKE SALE – First United Methodist Church of Boyd will hold a flea market and bake sale 8 a.m.-4:30 p.m. Friday and 8 a.m.-noon Saturday.
BLOOD DRIVE – The American Red Cross will hold a blood drive 10 a.m.-4 p.m. Saturday at Lowe's Home Improvement in Decatur.
CHILD ABUSE PREVENTION EVENT – CASA of Wise and Jack Counties, the Wise County Coalition for Healthy Children, the Child Welfare Board and Child Protective Services are kicking off Child Abuse Prevention Month at noon Monday, April 1 on the steps of the Wise County Courthouse in Decatur. County Judge J.D. Clark will read a proclamation, and those in attendance are asked to wear blue, the official color of the campaign.
RACE CAR IN PARADISE – Freedom Insurance in Paradise is hosting the Red Dragon race car, sponsored by Gainsco Auto Insurance, at its office 12:30-4:30 p.m. Friday for pictures.
RELAY FOR LIFE SURVIVOR MEETING – Relay For Life of Wise County will have a Survivor Dinner 6-8 tonight at First Baptist Church Decatur.
FUNERALS – Graveside service for Caroline Faith Houston, infant, of Sunset is 2 p.m. Friday at Alvord Cemetery. Hawkins Funeral Home in Decatur is handling arrangements.
FUNERAL for Ruth Narramore, 91, of Decatur is 10:30 a.m. Saturday at Hawkins-Decatur. Family visitation is one hour prior to service Saturday at the funeral home.
MEMORIAL for Ronnie Deaton, 72, of Decatur will be held at a later date. Hawkins-Decatur is handling arrangements.
MEMORIAL service for Bobby C. Richey, 79, of Chico is 7 p.m. Saturday at Hawkins Funeral Home Chapel in Bridgeport. Family visitation is 6-7 p.m. Saturday at the funeral home.
GRAVESIDE service for Susan lleta Jardine, 97, of Dallas is 3 p.m. Saturday at New Harp Cemetery in Forestburg. Jones Family Funeral Home in Bridgeport is handling arrangements.
NO SERVICE is planned for Rodger W. Couch, 72, of Sunset. White Family Funeral Home in Bowie is handling arrangements.
Print This Page