A New Mexico man was seriously injured in a one-vehicle wreck on U.S. 287 near New Fairview Thursday afternoon.
His name was not available at the scene. He was flown to John Peter Smith Hospital in Fort Worth.
Although the accident is still under investigation, it appears the man was southbound on 287  in a white Nissan Altima when, for unknown reasons, he drove across the shoulder and off of the roadway. He continued for more than 500 feet, cresting a hill before striking a tree.
East Wise Volunteer Fire Department and Wise County medics set up a landing zone for Lifeteam 68 on the east side of the roadway.
Wise County medics and Texas Highway Patrol also responded to the wreck, which was toned out at 3:35 p.m.  It occurred a mile-and-a-half north of Farm Road 407.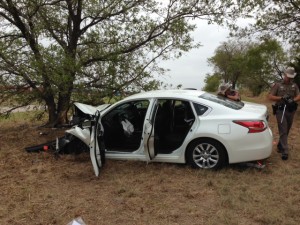 Print This Page