The driver of a small pickup was seriously injured in a wreck with an 18-wheeler just north of Decatur early Sunday morning.
The driver, a male whose name was not available, was transported by ground ambulance to Wise Regional Health System in Decatur and was later flown to a Metroplex hospital.
The extent of his injuries were not known, but authorities at the scene said he was "incoherent."
The accident, which was reported just after 4 a.m., is under investigation, but it appears the pickup was southbound on U.S. 287, near Bono's, when it lost control. Witnesses said the driver ran off the roadway into the right-side ditch, overcorrected and darted back onto the highway, where the 18-wheeler drove over the front end of the pickup.
The impact caused the pickup to flip. It came to a rest on the side of the road, near AGvantage.
The driver of the 18-wheeler was not injured.
State troopers are investigating the accident. Decatur fire and police departments and Wise County medics responded.
More information will be posted as it becomes available.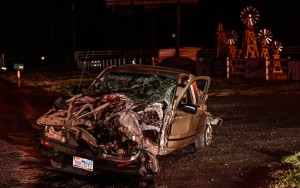 Print This Page