More than half of Wise County's fire departments were dispatched to a large fire at Bridgeport Iron and Metal on Texas 101 Saturday afternoon.
A blaze broke out among two larges piles — one of scrap metal and another of vehicles — at the scrap metal yard. Flames were contained to the piles, which were up to 35 feet tall, and nearby overhanging trees.
However, no structures were involved as of 6:30.
One firefighter was transported to Wise Regional Health System – Bridgeport for heat exposure. Two other were being treated at the scene. Their injuries did not appear to be life-threatening.
Firefighters from Bridgeport, Lake Bridgeport, Decatur, Chico, Paradise, Runaway Bay, Alvord, Cottondale and Greenwood-Slidell battled the blaze, which was reported just before 4 p.m.
The cause of the fire has not been determined.
Wise County Fire Marshal Chuck Beard expected the fire to burn into the night. More information will be posted as it becomes available.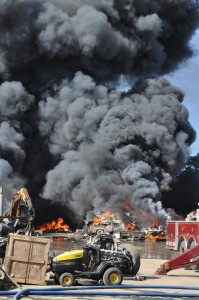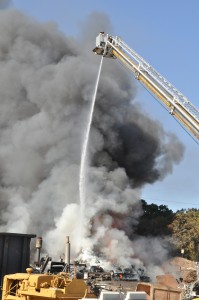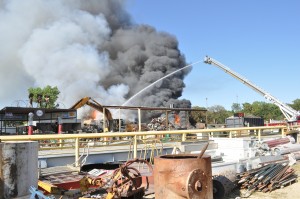 Print This Page