By Richard Greene
rgreene@wcmessenger.com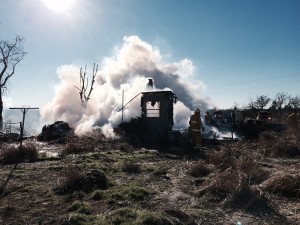 On a brutally cold morning, a man lost his home and three dogs in a fire near the Wise and Montague county line Sunday.
Alvord, Chico and Crafton firefighters battled the blaze off County Road 1792 near Park Springs with temperatures in the mid 20s and the wind chill in the low teens.
"I've lost everything I own in the world," said homeowner Charles Montgomery. "I didn't even get my glasses. Within seconds, the whole house was full of smoke."
Montgomery, who lived in the 1,200-square-foot residence built in 1903 for more than 20 years, said the fire started in the back room where he had a fire going in a wood-burning stove shortly before 9 a.m.
"I was in the living room. I heard it popping and went to the back of the house," Montgomery said. "The house filled with black smoke within seconds.
"It was an old wood house and I found out it was a pure tinderbox."
Seven of Montgomery's 10 chiweenies made it out of the house.
"Three are not here," said Montgomery sitting in his truck. "The smoke must have got them."
Wise County Fire Marshal Chuck Beard said the Red Cross was called to help Montgomery.
"He lost everything and didn't have insurance," Beard said.
Beard confirmed Montgomery's thoughts on the origin of the fire.
"It definitely was from the wood-burning stove in the back," Beard said. "It started in the attic space. Once it got up there especially with the north wind, it took off. The wind just fueled it."
Winds were gusting out of the northwest to 22 mph at the Decatur Municipal Airport at the time of the blaze.
At 12:30 p.m., firefighters remained on scene overhauling the property.
"They will do a little more overhaul. It'll smolder the rest of the day," Beard said.
Print This Page