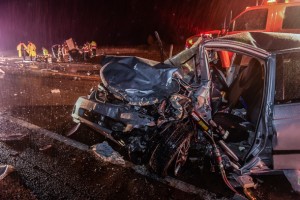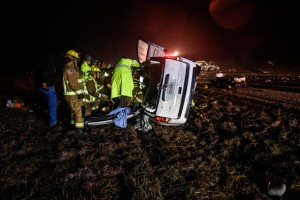 By Richard Greene
rgreene@wcmessenger.com
Five men were transported by ambulance to area hospitals following a violent head-on collision on Farm Road 51 near County Road 2320 between Decatur and Slidell Saturday night.
Dylan Lamoreaux, 21, of Weatherford and an unknown male passenger were taken to John Peter Smith Hospital in Fort Worth with what Department of Public Safety Trooper Beau Bridgeman agreed were serious injuries.
Guy Matlock, 69, of Weatherford; his son, Randall Matlock, 33, of Weatherford; and Jacob Byrd, 25, of Azle were taken to Wise Regional Health System in Decatur. Bridgeman said they were believed to be in stable condition.
Guy Matlock was driving a white Saturn SUV northbound on FM 51 shortly before 9:30 p.m. when it was struck by the southbound Kia passenger car driven by Lamoreaux in the northbound lane.
"The Kia was on the wrong side of the road," Bridgeman said.
The SUV with the Matlocks and Byrd in it came to rest in the northbound ditch. Lamoreaux' car stayed in the roadway after the collision.
Firefighters from Decatur and Slidell/Greenwood extricated the men from the vehicles in a steady rain. Multiple ambulances transported the patients from the scene.
The wreck closed FM 51 until midnight as crews cleaned up the site and troopers conducted their investigation.
Print This Page