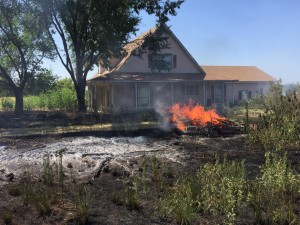 Decatur Fire Department, Newark Fire Department and Boyd Volunteer Fire Department responded to a pasture fire threatening a structure on Private Road 4379 between Decatur and Boyd this morning.
David Lambert said he had been raking and baling hay for the owner of the property when the hay baler caught on fire. The fire then spread to several hay bales and across the pasture, burning between two to three acres, according to Boyd VFD Captain Shane McNelly.
The fire then spread to the residence on the property, burning a portion of the garage before Decatur FD put it out.
The owner of the property, who requested his name be withheld, said most of what burned was marginal.
Print This Page