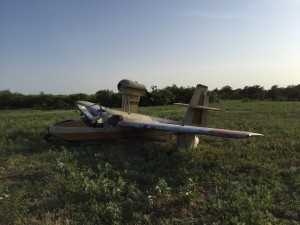 A small plane crashed Sunday afternoon a mile west of Chico, injuring the pilot.
Harold Love, 64, of Bridgeport was taken by ground ambulance to Harris Methodist in Fort Worth with back pain.
Love was the lone passenger of the 1970s model plane.
Love and another plane were headed to get fuel. When the pilot of othe plane saw no sight of Love, he circled around and found Love and the plane in a field 250 yards south of County Road 1640.
"The buddy circling over head found him," said Department of Public Safety Trooper Ralph Wallace. "He'd been sitting there for an hour.
Medics and firefighters were called to the scene shortly after 6 p.m.
Wallace said Love was alert and complaining of back pain.
Wallace added that the National Transportation Safety Board would investigate crash.
Print This Page