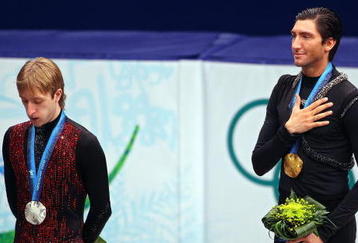 Have you seen the coverage of the Men's Figure Skating Awards Ceremony?  Russia's Evgeni Plushenko took the Silver Medal to the United States' Evan Lysacek, who won the Gold.  As Plushenko skated to the awards podium, he hopped on the Gold tier of the podium for a split second before stepping down to the Silver.  In every post-ceremony interview, he has criticized Lysacek for winning without doing a quadruple jump, saying, "If the Olympic champion doesn't know how to jump a quad, I don't know.  Now it's not men's figure skating, now it's dancing."
The quotes are never ending and just as rude as this one, but even more rude?  Posting a picture on his personal website renaming his Silver Medal in Vancouver Platinum. 
It's a bummer watching this kind of sportsmanship take place during the Olympics, as my kids begin to idolize these athletes for their fantastic abilities.  While Plushenko  is definitely a minority in this area, it's amazing to me that he wouldn't think of his influence on all these impressionable kids, and even more amazing that he would show such bad manners.
Because that's what it comes down to, your basic bad manners.