CHICO ISD HIRES AD – Chico ISD trustees unanimously approved the hire of Randy Miller to be the school's new athletic director and head football coach at a special meeting Tuesday night. Miller spent the past year as the offensive coordinator at Cooper – a 3A school in East Texas. The Bulldogs went 9-2 last season, including an undefeated 6-0 mark in league play to claim the District 9-3A Division II title. It is Miller's first head coaching job. His two-year contract is for $76,095 per year. "It's been a dream of mine for a long time," Miller said. "I'm just very excited to get there. Meeting the people running the committee, it seems like a community my family is going to fit in with. I'm very excited for the opportunity."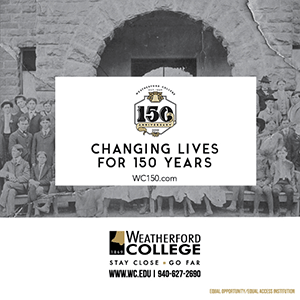 HAYES NAMED WINNER IN COUNCIL RACE – Jake Hayes was named the winner of the Place 2 race for Decatur City Council following a meeting of the ballot board yesterday. In that three-person race, Hayes held a one-vote lead over incumbent Susan Cocanougher, 68-67 when the votes were totaled Saturday night. Justin Horton received 55 votes. The ballot board met yesterday to determine what would happen with the provisional and mail-in ballots which potentially could have changed the result of the election. City Secretary Diane Cockrell said Tuesday afternoon that the vote total did not change for Place 2, meaning Hayes won the election by the single vote.
DECATUR SCHOOL HONORS – Jennifer Ross and Dusty Naumann were honored as DISD "Teachers of the Year" Tuesday at the Decatur Education Foundation Gala at the Decatur Conference Center. Ross is a teacher at Rann Elementary School, and Naumann is a vocational agriculture teacher at Decatur High School. Three people were named to the DISD Athletic Wall of Fame including Brian Christian, Kasi Elder and Stephen J. Wren.
ANOTHER RAINY MORNING – Another round of storms was bringing rain to Wise County as Update was going to press Wednesday morning. Rain totals as of 7:45 a.m. included 0.75 of an inch in Cottondale, 0.5 in Alvord and Greenwood, 0.45 in Bridgeport and 0.37 in Decatur. A flood warning remains in effect for the West Fork Trinity River near Boyd where minor flooding is occurring. Today's high is expected to be around 81 degrees.
BUTTERFIELD STAGE DAYS – Butterfield Stage Days is Saturday in downtown Bridgeport. The event celebrating the city's history includes a carnival, rib cookoff, Bridgeport Voice, a singing contest, and free stagecoach rides. There will also be more than 100 merchants and vendors, plus a free kids zone with bounce houses, obstacle courses, barrel train rides and yard games.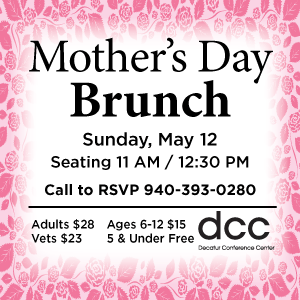 SCOTTISH FESTIVAL – The Texas Scottish Festival and Highland Games will return to the Wise County Fairgrounds in Decatur Friday through Sunday. Highlights include Celtic rock music, Scottish heavy athletics and Highland dancing, traditional food, clan tents and a children's area. This is the second year the festival has been held in Wise County. Tickets can purchased online at texasscots.com or at the main entrance.
WOMEN'S CLUB SCHOLARSHIP – The Bridgeport Women's Club is accepting applications for their Non-Traditional Student Scholarship. The scholarship is for women attending college or training for a certification after being out of high school more than one year. Applicants must live or work in Bridgeport. Applications are available on the Bridgeport Women's Club Facebook page or can be picked up at the Bridgeport Library. All applications must be turned in to the Bridgeport Library no later than May 14.
BINGO NIGHT – Assumption of the Blessed Virgin Mary Catholic Church in Decatur is sponsoring Bingo Night 6:30-9 p.m. Saturday at the church.
FISH FRY – Sycamore Baptist Church will hold a fish fry with bounce house for kids 5 p.m. Saturday. The church is located at 133 County Road 2425.
LIBRARY PROGRAMS – Chico Public Library will host 1, 2, 3 Play with Me for infants and toddlers to age 4 from 11 a.m.-noon today. The library's Stitch It! group will follow at 12:15 p.m. Call Michelle at 940-644-2330.

FUNERALS – Service for Ronald Mack Hilton, 81, of Decatur is pending at Hawkins Funeral Home in Decatur.
FUNERAL for Riser Wayne Richey, the infant son of Neil and Rose Richey of Chico, is 10 a.m. today at the First Baptist Church in Decatur with burial at Crafton Cemetery. Hawkins-Decatur is handling arrangements.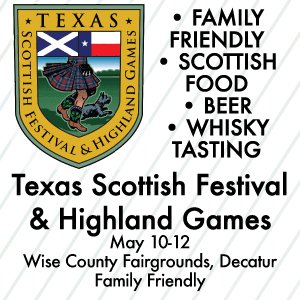 FUNERAL for Sidney Leon Hancock Jr., 86, of Decatur is 11 a.m. Thursday at First Baptist Church in Decatur with burial at Oaklawn Cemetery. Family visitation is 6-8 tonight at Hawkins-Decatur.
FUNERAL for Jerry Mack Crafton, 77, of Alvord is 2 p.m. Friday at First United Methodist Church in Alvord with burial at Alvord Cemetery. Family visitation is 6-8 p.m. Thursday at Hawkins-Decatur.
GRAVESIDE for Ruth Elizabeth Pearson, the infant daughter of Jordan and Lexie Pearson of Springtown, is 11 a.m. Saturday, May 18, at Oaklawn Cemetery in Decatur. Memorial is 1 p.m. Saturday, May 18, at U-Turn World Ministries Church in Chico. Hawkins-Decatur is handling arrangements.
SERVICE for Patricia Krebbs, 76, of Boyd is pending at Hawkins Funeral Home in Boyd.
FUNERAL for Billy Ray Gray, 81, of Boyd is 2 p.m. next Tuesday at First Baptist Church Boyd with burial at Boyd Cemetery. Family visitation is 6-8 p.m. Monday at the church. Hawkins-Boyd is handling arrangements.
GRAVESIDE for Linda Marie Rasor Whitmarsh, 63, of Poolville is 1 p.m. Thursday at Boonsville Cemetery. Family visitation is 6-8 tonight at Hawkins-Boyd.
MEMORIAL for Christopher "Kip" Jackson, 55, of Decatur is 4 p.m. Friday at Ascension and St. Mark Episcopal Church in Bridgeport. Jones Family Funeral Home in Bridgeport is handling arrangements.
SERVICE for Margaret "Ruth" Feuerborn Lacaze, 90, of Fort Worth is 1:30 p.m. today at Greenwood Chapel with interment at Greenwood Memorial Park. Greenwood Funeral Home is handling arrangements.