FLASH FLOOD WATCH – Wise County is included in a flash flood watch area until 7 p.m. Thursday. Periodic waves of rain are expected over the next couple of days which could bring several inches of rain, according to the National Weather Service. During last night's storms, weather watchers reported rotation in a cloud passing through the southeastern portion of the county, leading to a tornado warning for the Rhome area. There were no reports of tornadoes in Wise County. Rainfall totals from yesterday's storm included 0.4 of an inch in Greenwood, 0.36 in Decatur, 0.3 in Cottondale, 0.1 in Alvord and 0.07 in Bridgeport. Today's forecast includes a small chance of rain this morning, with rain chances increasing to 70 percent this afternoon.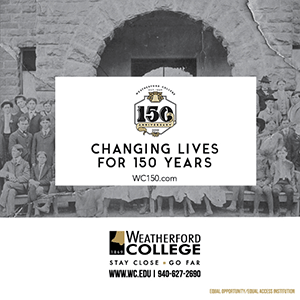 FOOD TRUCK CHALLENGE – The 3rd Annual Eighter from Decatur Food Truck Challenge is 10:30 a.m.-10 p.m. Saturday in downtown Decatur. Decatur Chamber of Commerce Director Misty Hudson expects more than a dozen trucks this year with a wide variety of menus. There will be a kid's zone to keep the little ones entertained and live music by Deep In It and Downtown Royalty. For tickets, visit eighterfoodtruckchallenge.com.
YOUTH ART SHOW – The Wise County Art Association's 2019 Youth Art Show is 1-3 p.m. Saturday at the Decatur Conference Center. Three $1,500 scholarships will be awarded to 2019 Wise County graduating seniors. Admission is free.
SCRAPBOOKING – The MZ Bee, which will feature scrapbooking and crafting, is 10 a.m.-4 p.m. Saturday in the fellowship hall at Mount Zion Baptist Church, 615 County Road 1280. Attendees will bring their own projects, lunch and snacks. There is no charge, but donations can be made to Meals on Wheels. Call 940-627-5103 or 940-427-5941.
BOYD CEMETERY ASSOCIATION – The Boyd Cemetery Association canceled its annual meeting slated for Sunday.
FOUNDATION GALA – The Decatur Education Foundation Gala is 6 p.m. Tuesday, May 7. The event will honor the 2019 Top 10 graduates, retirees, donors and friends of the foundation. This year's Athletic Wall of Fame inductees will be recognized, and Teacher of the Year will be announced. Buy tickets this week at the administration building, 307 S. Cates, in Decatur or online at bit.ly/DEFGala.
SENIOR MEALS – Every Tuesday in May, starting May 7, the Wise County Committee on Aging (providers of Meals-on-Wheels) will serve lunch for anyone age 60 and older in the Fellowship Hall at the First United Methodist Church in Decatur (use the Pecan Street entrance). These meals, part of the Organized Wise County Lunches for Seniors (OWLS) program, are free for senior citizens. Doors will open at 11 a.m., and lunch will be served beginning at 11:30. Reservations are required. Call the WCCA office at 940-627-5329 for reservations.
LIBRARY PROGRAMS – Chico Public Library will host 1, 2, 3 Play with Me for infants and toddlers to age 4 from 11 a.m.-noon today. The library's Stitch It! group will follow at 12:15. Call Michelle at 940-644-2330.
STORY TIME – Rhome Public Library will host Story Time 11 a.m. today. This special story time hour will feature several Rhome Fire Department firefighters teaching the children about fire safety. The fire truck will also be on display. All ages are invited.

FUNERALS – Service for Calvin Woolaver, 94, of Decatur is 10:30 a.m. today at Hawkins Funeral Home Chapel in Decatur with burial at Bethel Cemetery with a reception at Candlewood Suites in Decatur immediately following.
MEMORIAL service for Sally Jo Browning, 70, of Fort Worth is 1 p.m. Friday at First United Methodist Church in Boyd. Family visitation will follow at the church. Hawkins Funeral Home in Boyd is handling arrangements.
GRAVESIDE service for Danny Lee Stafford, 66, of Paradise is 2 p.m. today at Paradise Cemetery. Jones Family Funeral Home in Bridgeport is handling arrangements.
SERVICE for Richard C. Giller, 80, of Runaway Bay will be held at a later date in Johnson City. Jones-Bridgeport is handling arrangements.
MEMORIAL service for Marshall Fox, 69, of Decatur is 2 p.m. Saturday at First Baptist Church in Decatur. Alexander's Midway Funeral Home in Springtown is handling arrangements.