STORMS WREAK HAVOC IN WISE – Fire possibly sparked by a lightning strike tore through a home in the 500 block of South Hitt Street in Boyd early Wednesday morning. Firefighters from Boyd, Newark, Paradise, Rhome and Cottondale battled the blaze during a steady downpour on the back side of the fast-moving storm that caused damage throughout the county and knocked out power to nearly 500 residents. Wise County Fire Marshal Jeff Doughty said the lone occupant of the home heard what sounded like a gunshot and glass breaking. "She looked around the house, and when she walked by the pull-down hatch for the attic, she noticed light coming from the attic," Doughty said. "It confirms my suspicion that it was a lightning strike." The fire was reported around 5 a.m. Boyd Fire Chief Chris Caster reported the fire was knocked down around 6:15 a.m. As of 6:30 a.m., crews had not been able to assess the extent of the damage to the home. While firefighters battled the blaze, reports came in from across the county of other damage from the storm. The National Weather Service in Fort Worth issued a severe thunderstorm warning for Wise County at 4:15 a.m. until 4:30 a.m. as the storm rolled through with possible 60 mph winds. A tractor-trailer turned over on its side on U.S. 81/287 near County Road 4221 near the height of the storm. The two occupants were out of the vehicle with minor injuries when first responders arrived. A RV on Singing Meadows Lane in Rhome overturned with a man in his 60s inside. He reported he was not injured. Limbs were reported down from Lake Bridgeport to Rhome and Newark due to the powerful wind gusts. Oncor spokesperson Sabrina Easley said the winds damaged lines causing power outages for approximately 400 customers in areas around Chico, Decatur, Lake Bridgeport, Paradise and Runaway Bay. Easley said crews were assessing the damage and did not have a time estimate for power to be restored. Wise County Electric Coop reported 73 customers without power around Chico and nine near Rhome. Rainfall totals include 1.4 inches in Greenwood, 1.33 in Decatur, 1.25 in Bridgeport and 1.02 in Alvord.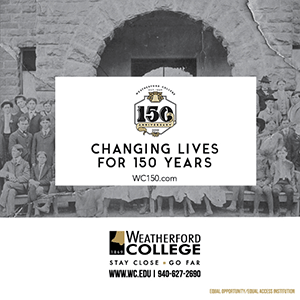 SPRING BREAK SPORTS – Local high school baseball and softball teams spent Tuesday of spring break on the field. Decatur's Chase Oberle pitched four innings, and Triston Read drove in three runs as the Eagles beat Burkburnett 14-3 Tuesday night. Decatur improved to 15-2. Boyd knocked off Paradise 7-5 in eight innings in the District 7-3A opener Tuesday afternoon. The Yellowjackets improved to 9-4-1. The Panthers fell to 6-6-2. In softball action, Kaycee Martin drove in three runs, and the Paradise Lady Panthers beat the Boyd Lady Jackets 13-3 in five innings. As of 8 a.m., the schedule for today's baseball games is as follows: Bridgeport at Castleberry, noon; Jacksboro at Paradise, 7:30 p.m.; Boyd at Millsap, 1 p.m.; Alvord at Saint Jo, noon. The softball schedule is Decatur at Wichita Falls City View, noon; Boyd at Millsap, 11 a.m.; and Jacksboro at Paradise, 1 p.m.
VENDOR SPACE AVAILABLE – A new festival, Bridgeport Bark Bike and Brews, is 10 a.m. to 3 p.m. March 23 in downtown Bridgeport. Bridgeport Chamber of Commerce and Bridgeport Main Street are seeking vendors for the event. To reserve vendor space, email MaryBeth Holder at marybethholder@bridgeportchamber.org or Tiffany Evans at attevans@cityofbridgeport.net. Deadline is March 19.
MANAGING DIABETES – Texas Health Resources and the Area Agency on Aging is having a free diabetes self-management workshop on Tuesdays starting March 19 at the Newark City Library. The programs are 4 to 6:30 p.m. and will run through April 23.
REGISTER TO VOTE – Decatur Forward is having a voter registration drive 10 a.m. to 4 p.m. Saturday at Rhine Realty, 305 S. Trinity St., in Decatur. There will be hot dogs, drinks and a bounce house for kids. Voter registration cards will be available for pickup. Call 303-856-3241.
BAKE SALE – Eastside Alumni Association is having a bake sale Saturday at St. Johns Baptist Church, 904 N. FM 51, in Decatur. It will start at 9 a.m. Call 940-799-1077.

FUNERALS – Funeral for Juanita Castillo, 61, of Rhome is pending at Hawkins Funeral Home in Decatur.
MEMORIAL service for Richard Dodson Mote, 68, of Aurora is 1 p.m. Saturday, April 6, at Hawkins-Decatur.