FLASH FLOOD WATCH – Following a rainy evening yesterday, more rain in today's forecast brings the chance of flash flooding to the area. Wise County remains in a flash flood watch until midnight tonight. Yesterday's rainfall totals include 1.62 inches in Bridgeport, 1.4 in Cottondale, 1.36 in Decatur, 1.05 in Greenwood and 0.75 in Alvord. Today's forecast includes an 80 percent chance of heavy rain with new rainfall amounts between a quarter-inch and half-inch, according to the National Weather Service. Storms knocked out power to more than 100 Oncor customers in the Rhome area last night. Today's high temperature is expected to be 67.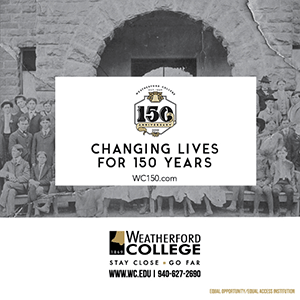 BAKE SALE – The East Side Alumni will hold a bake sale 9 a.m.-1 p.m. Saturday in the parking lot of St. Johns Baptist Church. Call Mike Bell at 940-799-1077.
FREE COMMUNITY SHRED DAY – First State Bank will host their 2nd Annual Community Shred Day at branches in Bridgeport and Chico 9 a.m.-noon Saturday. Personal, business and non-customers are welcome. Shred paper documents on-site at no cost. Limit volume to what you can bring in a passenger vehicle or pickup bed. No trailers. Call 940-683-6300.
CEMETERY MEETING – The Jonestown Cemetery Association will hold its annual meeting 11 a.m. Saturday in the fellowship hall at Mount Zion Baptist Church near Alvord. Lunch will be served.
KINDER ROUND-UP – Decatur ISD's Carson, Rann and Young Elementary schools will hold Kindergarten Round-up 5:30 p.m. next Tuesday. Kindergarten Round-up is the designated time each year for parents to complete school registration for their children who will be kindergarteners in the fall. Visit decaturisd.us/kinderroundup to enroll your kindergarten student.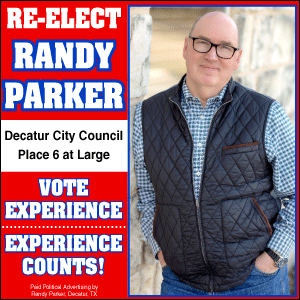 DIABETES EDUCATION – Total Diabetes Care at Wise Health System is having a free diabetes education class 6:30 p.m. Thursday in the WHS board room, 609 Medical Center Dr., in Decatur. The topic will be "Diabetes Stress – How to manage feelings associated with living with diabetes." Call 940-626-1890.
RETIREMENT PARTY – Decatur Public Library is having a retirement reception for Circulation Supervisor Linda Meador 3-5 p.m. Friday. After 30 years, Meador is retiring April 30. Read more about Meador in the midweek Wise County Messenger on newsstands today.
RELAY FOR LIFE LUMINARIES – Luminaries for the Wise County Relay for Life are on sale for $5 each. The lighted bags for the May 3 event will honor someone who battled cancer. Call Kathy Hughes, 940-255-2944.
UNIDOS MEETING – The Bridgeport Police Department will hold its next meeting of the UNIDOS program 6-7 tonight at St. Johns Catholic Church in Bridgeport. For information about the program, call Officer Marissa Martinez with Bridgeport Police Department at 940-683-3430.

FUNERALS – Memorial service for Barbara Summers, 102, of Decatur will be at a later date at Fort Sam Houston in San Antonio. Hawkins Funeral Home in Decatur is handling arrangements.
MEMORIAL visitation for Doug Bryan, 77, of Rhome is 4-8 p.m. today at The Big White Barn in Decatur. Hawkins-Decatur is handling arrangements.
FUNERAL for Doris Bridges, 92, of Paradise is 2 p.m. today at the First Baptist Church in Cottondale with burial at Paradise Cemetery. Hawkins Funeral Home in Bridgeport is handling arrangements.
FUNERAL for Donald Burdine, 74, of Alvord is 10 a.m. Thursday at First Baptist Church in Alvord with burial at Alvord Cemetery. Family visitation is 6-8 tonight at Hawkins-Bridgeport.
FUNERAL for Bonnie Horton, 85, of Paradise is 10 a.m. Friday at the First Baptist Church in Cottondale with burial at Paradise Cemetery. Family visitation is 6-8 p.m. Thursday at Hawkins-Bridgeport.
SERVICE for Grady Scott, 63, of Bridgeport is 2 p.m. Monday at Jones Family Funeral Home in Bridgeport with burial at East Bridgeport Cemetery. Family visitation is 1 p.m. Monday at the funeral home.
SERVICE for Marshall Fox, 69, of Decatur is pending at Alexander's Midway Funeral Home in Springtown.