BURN BAN IN EFFECT – Due to high temperatures expected to reach the low 90s and strong south winds of 20 to 30 miles per hour with gusts up to 40 mph expected, Wise County is under a burn ban today. That means no outdoor burning is allowed due to fire danger conditions. A wind advisory is also in effect from 11 a.m. to 9 p.m.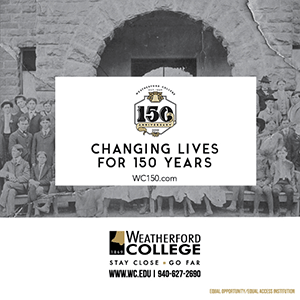 EMS ADMINISTRATOR RETIRES – Longtime EMS Administrator Charles Dillard announced his retirement in Monday's county commissioners meeting. Dillard, who started working for the county in 1990, will work through the end of the month. The job will be posted, and a hiring committee, which includes County Judge J.D. Clark, Precinct 2 Commissioner Kevin Burns, Fire Marshal Jeff Doughty and Emergency Management Coordinator Cody Powell, will review resumes and interview candidates, making a recommendation to the court. Read more in the weekend Wise County Messenger.
MEDICAL LODGE EGG HUNT – Decatur Medical Lodge will hold an Easter Egg Hunt 11 a.m.-12:30 p.m. Saturday. The event will include hot dogs, bounce house, egg hunt and prizes.
EASTER IN NEWARK – The City of Newark's 9th Annual Easter Egg Hunt is 10 a.m.-noon Saturday at Delora Doughty Royal City Park. The event will include games, crafts and refreshments. Bring your own basket and lawn chairs. Children must be accompanied by an adult.
HOME AND LAWN SHOW – The Wise County Home and Lawn Show is 9 a.m.-3 p.m. Saturday at the Decatur Conference Center. It includes local vendors who will have information and products on display to help you with any home- or garden-related projects. Proceeds from the show help fund various Decatur Rotary Club projects.
THE BAY EASTER – The Bay Church in Runaway Bay will hold its annual Easter Egg Hunt 1-3 p.m. Sunday. It will include food, prizes and free Easter photos for ages 18-months to 12 years.
CITY-WIDE GARAGE SALE – Bridgeport will hold a City-Wide Garage Sale Weekend Friday and Saturday. A map and a list of garage sales is available in paper form at city hall and the library. It can also be found on the city's Facebook page.
KINDERGARTEN REGISTRATION – Paradise Elementary will hold kindergarten registration by appointment only April 25 and 30 for students who will be 5 on or before Sept. 1. Call 940-969-5044.
RELAY LUMINARIAS AVAILABLE – Luminarias for Relay For Life of Wise County are $5 each. You can decorate your own bag or volunteers can do it for you. Luminarias can be dedicated to loved ones lost, someone currently battling cancer or anyone who has overcome cancer. They will be lit the night of Relay, which is 6-11 p.m. May 3. Call Kathy Hughes at 940-255-2944.

FUNERALS – Service for Melba Anderson, 100, of Decatur is pending at Hawkins Funeral Home in Decatur.
GRAVESIDE service for Billy Hotz, 83, of Decatur is 2 p.m. today at Pleasant Grove Cemetery No. 1 in Decatur. Hawkins-Decatur is handling arrangements.
GRAVESIDE service for Bobby Gene St. John, 78, of Alvord is 10:30 a.m. today at Cumby Cemetery in Chico. Hawkins Funeral Home in Bridgeport is handling arrangements.
GRAVESIDE service for Harold Williams, 82, of Boyd is 11 a.m. Thursday at Jaybird Cemetery in Reno. Family visitation is 6-8 tonight at Hawkins Funeral Home in Boyd.
MEMORIAL service for Kathryn Rita Blount, 65, of Runaway Bay will be held at a later date. Jones Family Funeral Home in Bridgeport is handling arrangements.
MEMORIAL service for Jackie Laverne Jones, 85, of Boyd will be held at a later date. Jones-Bridgeport is handling arrangements.
SERVICE for George Fred "Freddy" Allen, 66, of Springtown, formerly of Decatur, is 2:30 p.m. Sunday at Pleasant Grove Cowboy Church. Alexander's Midway Funeral Home in Springtown is handling arrangements.