DHS SECURITY INCREASED FOLLOWING THREAT – Decatur High School will have extra security measures in place today after a bomb threat was made Monday. The school will have extra law enforcement on campus and will not allow students to bring in backpacks, bags or large purses Tuesday or Wednesday. Athletic bags must be left in the athletic locker rooms. Clear plastic bags are being allowed. A statement from Decatur ISD Superintendent Judi Whitis said school officials were notified shortly before noon that a threat had been written on the wall in the boys' downstairs restroom. "The writing threatened a bomb on May 7. The bathroom was immediately closed and our school resource officers, Decatur Police and campus administrators began investigating," Whitis said in the statement. "While we do not believe this to be credible, threats of any kind to the safety and well being of our students and staff are taken very seriously and investigated thoroughly. Police and campus staff are searching security footage and interviewing students to determine the source of the threat. Meanwhile, our custodians have removed the writing. "Whitis added that law enforcement and administrators responded quickly to the incident. "It was all hands on deck," Whitis said.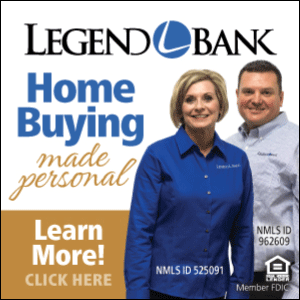 STORMS RETURN TO FORECAST – Wise County has a slight chance of thunderstorms today and this evening, but rain chances increase to 80 percent in the early morning hours of Wednesday with a 100 percent chance of rain during the day Wednesday, according to the National Weather Service.
PARKINSON'S SUPPORT GROUP – The Parkinson's Support Group will meet at 6 tonight at 609 Medical Center Drive in Decatur. Call Pam Hudson at 940-389-0642.
BUBBLE PAINTING – Kids of all ages are invited to experiment with bubble painting at the Chico Public Library 4-5 p.m. today. Call Brittany at 940-644-2330.
DEMOCRATIC WOMEN – The Texas Democratic Women (TDW) of Rural North Texas will hold a Margarita Night at 7 tonight at Dos Chiles in Bridgeport.
CLAY TARGET TEAM – The Decatur clay target team will hold an informational meeting for all Wise County students in grades seven through 12 at 6 p.m. Thursday at Decatur High School.
COMMUNITY SHRED DAY – Legend Bank will host a shred day at the Decatur Branch 8 a.m.-noon (or until full) Saturday. Donations are welcome to help support Wise Hope Shelter and Crisis Center. The bank will only accept paper for shredding. No cardboard, ring binders, hard-cover books or other metal can be accepted or disposed of on-site.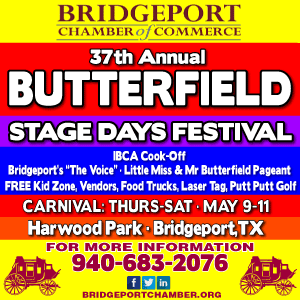 KINDERGARTEN REGISTRATION – Bridgeport Elementary School will hold Pre-K and Kindergarten registration for new students to the district on Monday, May 13 and Thursday, May 16 from 4-6:30 p.m. both days at the school. You will need to bring a birth certificate, Social Security card, current shot record, proof of residence, photo ID of the person doing the enrolling and the student. Call 940-683-5955.
ALZHEIMER'S SUPPORT GROUP – The Wise Alzheimer's Group will meet at 7 tonight in the boardroom at Wise Health System's West Campus in Decatur. Learn from others who have been there and share your experiences. For information, call Richard at 940-255-0244.
FUNERALS – Services for Ronald Mack Hilton, 81, of Decatur; Ruth Elizabeth Pearson, the infant daughter of Jordan and Lexie Pearson of Springtown; and Jerry Crafton, 77, of Alvord are all pending at Hawkins Funeral Home in Decatur.
FUNERAL for Riser Wayne Richey, the infant son of Neil and Rose Richey of Chico, is 10 a.m. Wednesday at the First Baptist Church of Decatur with burial at Crafton Cemetery. Hawkins-Decatur is handling arrangements.
FUNERAL for Sidney Leon Hancock Jr., 86, of Decatur is 11 a.m. Thursday at First Baptist Church in Decatur with burial at Oaklawn Cemetery. Family visitation is 6-8 p.m. Wednesday at Hawkins-Decatur.
MEMORIAL service for Paul Kobbeman, 36, of Rhome is 2 p.m. Saturday, May 25, at Hawkins Chapel in Decatur.
SERVICE for Mary Louise Williamson, 80, of Springtown will be at a later date. Hawkins Funeral Home in Bridgeport is handling arrangements.
GRAVESIDE service for Freeda Bob Duffle, 97, of La Vernia is 2 p.m. today at Willow Point Cemetery. Hawkins-Bridgeport is handling arrangements.
SERVICES for Patricia Crebbs, 76, and Billy Gray, 81, both of Boyd are pending at Hawkins Funeral Home in Boyd.
GRAVESIDE service for Linda Marie Rasor Whitmarsh, 63, of Poolville is 1 p.m. Thursday at Boonsville Cemetery. Family visitation is 6-8 p.m. Wednesday at Hawkins-Boyd.
SERVICE for Christopher "Kip" Jackson, 55, of Decatur is 4 p.m. Friday at Ascension and St. Mark Episcopal Church in Bridgeport. Jones Family Funeral Home in Bridgeport is handling arrangements.
SERVICE for Margaret "Ruth" Feuerborn Lacaze, 90, of Fort Worth is 1:30 p.m. Wednesday at Greenwood Chapel with interment at Greenwood Memorial Park. Greenwood Funeral Home is handling arrangements.