COUNTY TO BUY OLD BANK BUILDING – The former First National Bank building, one block west of the Decatur Square on Main Street, will be renovated into a Wise County courthouse annex. County commissioners Monday approved purchasing the building at the recommendation of County Judge J.D. Clark. Cost is $825,000, and the renovation is expected to cost about $1.7 million, a significant savings compared to buying land and building a new facility, the judge said. Offices and courts that will be housed in the new annex include County Court-at-Law No. 1, the county attorney's office, the county clerk's court department, Precinct 1 justice of the peace, and Precinct 1 and 2 constables. Clark said the old vault will likely house computer servers and a county IT employee will also office in the building. "We're excited to make a building acquisition that would serve immediate needs as far as space," Clark said. The building most recently housed a Wells Fargo but has been empty for many years. Moving several offices from the courthouse on the square will also allow for more meaningful restoration and preservation of the historic structure. Read more in the midweek Wise County Messenger on newsstands Wednesday.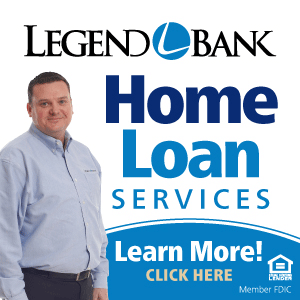 BRIDGEPORT'S TAYLOR HEADED TO NORTHWEST – Northwest ISD trustees approved the hire of Bridgeport girls basketball coach Dallas Taylor to the same position at Northwest High School Monday night. Taylor has been with the Sissies for more than a decade, and has been the head coach since 2011. Over the past five seasons, Bridgeport has gone 114-45, winning 71.7 percent of its games. "We just felt Dallas was the right fit for our program and our girls," said Northwest Executive Athletic Director Joel Johnson. "We liked her energy. Her resume kind of spoke for itself." Johnson said Taylor will begin her new role in August.
AIR QUALITY ALERT – The Texas Commission on Environmental Quality (TCEQ) has issued an Ozone Action Day for the Dallas-Fort Worth area, including Wise County, for today. Atmospheric conditions are expected to be favorable for producing high levels of ozone air pollution in the area. Today's afternoon high is expected to reach 86 degrees.
DONATE LIFE MONTH – Wise Health System is having a flag raising ceremony in coordination with Donate Life Texas at 10 a.m. today to celebrate Donate Life Month. The ceremony will be at the flag poles on the WHS East Campus in Decatur.
HIRING EVENT – Workforce Solutions for North Central Texas will hold its Annual Hiring Event at Weatherford College Wise County 11 a.m.-3 p.m. Thursday. More than 30 employers are scheduled to attend.
BLOOD DRIVES – The American Red Cross is holding two upcoming blood drives in Wise County: 9 a.m. to 3:30 p.m. today at Boyd High School, 700 Knox Ave.; and 8 a.m. to 2 p.m. Friday at Decatur High School, 750 E. Eagle Summit Drive.
WELL SCREENING – The Texas Well Owner Network is hosting a water well screening 8:30-10 a.m. Wednesday at the Texas A&M AgriLife Extension Service office for Wise County. A meeting explaining screening results will be at 6 p.m. Thursday at the Wise County Fairgrounds Women's Building in Decatur.
DEMOCRATIC MEETING – The Wise County Democratic Party will meet 6:30 tonight at the Decatur Conference Center. The group invites those concerned about healthcare costs, supporting public education, safe drinking water and equality. Call Janet Akers-Amos, 940-399-7352 or visit www.wisedemocrats.com.
SCV MEETING – The Sons of Confederate Veterans meet 6 tonight at Catfish O'Harley's in Decatur. Wives and guests are welcome. Charlotte Canion, author of the book "You Have to Laugh to Keep From Crying," will be guest speaker.
FUNERALS – Graveside service for Billy Hotz, 83, of Decatur is 2 p.m. Wednesday at Pleasant Grove Cemetery No. 1 in Decatur. Family visitation is 6-8 tonight at Hawkins Funeral Home in Decatur.
GRAVESIDE service for Bobby Gene St. John, 78, of Alvord is 10:30 a.m. Wednesday at Cumby Cemetery in Chico. Family visitation is 6-8 tonight at Hawkins Funeral Home in Bridgeport.
SERVICE for Harold Williams, 82, of Boyd is pending at Hawkins Funeral Home in Boyd.
SERVICE for Jackie L. Jones, 85, of Boyd is pending at Jones Family Funeral Home in Bridgeport.
SERVICE for George Fred "Freddy" Allen, 66, of Springtown, formerly of Decatur, is 2:30 p.m. Sunday at Pleasant Grove Cowboy Church. Alexander's Midway Funeral Home in Springtown is handling arrangements.