FLOODING ISSUES – Northern parts of Wise County received more than 6 inches of rain in some areas from last night's storms, and with more rain predicted today, our area remains under a flash flood watch through tonight. The Crafton Volunteer Fire Department responded to a stranded motorist on County Road 1895. Initial reports indicated the driver was standing on the roof of the vehicle before being rescued. Rainfall amounts from last night included 6.01 inches in Alvord, 4.6 in Greenwood, 1.8 in Decatur, 1.6 in Cottondale and 1.15 in Bridgeport. Today's forecast includes a 60 percent chance of rain. A flood warning also continues for the Big Sandy Creek near Bridgeport with the river expected to crest near 14 feet by tonight. Flood stage is 12 feet.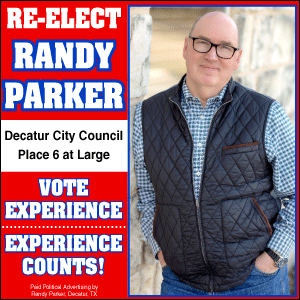 BOYD ISD'S WEST NAMED LONE FINALIST AT ELECTRA – Boyd ISD Superintendent Ted West Monday night was named the lone finalist for the same position at Electra ISD, a 2A school district near Wichita Falls. After the 21-day waiting period, West will be offered a contract for the job in his new district May 20. West has been the superintendent at Boyd since September 2012. West has been with the district 12 years, serving as the high school principal and assistant superintendent prior to being named superintendent. He notified the faculty Tuesday of the move. The Boyd ISD school board will hold a special meeting at 4 p.m. Friday to discuss the superintendent role.
935 VOTE EARLY IN DECATUR – According to unofficial early voting totals released by the Wise County Elections Office Wednesday afternoon, the Decatur School Board and Decatur City Council joint election drew 935 voters during the seven days of early voting, which ended Tuesday. Three places on the city council and two places on the school board feature contested races, and interest in the races appears to be high based on the early voting numbers. To put it in perspective, the last time a school bond issue – the type of proposition that usually draws the heaviest voter turnout – was put in front of Decatur voters on the May ballot (2015), a total of 856 people voted. In other communities, this year's early vote totals are as follows: Alvord School Board, 91; Aurora City Council/Northwest School Board, 102; Bridgeport City Council, 177; and Chico City Council, 71. Election day is Saturday.
SOFTBALL RESCHEDULED – Game 1 of the 4A Region I area series between Decatur and Graham has been rescheduled to 5 p.m. tonight in Bowie. The game was called off Wednesday night due to severe weather.
PARADISE DROPS GAME 1 – The Paradise Lady Panthers fell to Clyde 11-0 in Game 1 of the 3A Region I area round Wednesday night. Game 2 is set for 2 p.m. Saturday in Graford.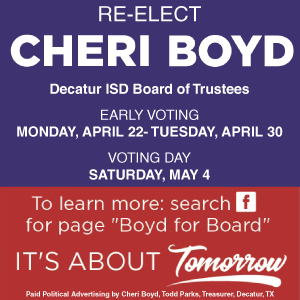 APRIL WEATHER – We saw plenty of April showers this year as Decatur received 5.15 inches of rain, the highest monthly total since last October and well above the average of 3.35 inches for the month of April. Temperatures in the month ranged from a low of 38 on April 1 to a high of 89 on April 10.
CEMETERY MEETING – The annual meeting of the Lone Star Cemetery Association is 10 a.m. Saturday at the cemetery.
WISE CHAMBER LUNCHEON – The next Wise County Chamber of Commerce Luncheon is 11:30 a.m. Monday at the Decatur Conference Center. Law enforcement will be the focus of the luncheon.
CLAY TARGET TEAM – The Decatur clay target team will hold an informational meeting for all Wise County students in grades seven through 12 at 6 p.m. May 9 at Decatur High School.
PAINTING AT THE LIBRARY – Kids of all ages are invited to experiment with tape resist watercolor painting at the Chico Public Library 4-5 p.m. today. Call Brittany at 940-644-2330.
FUNERALS – Service for Ruth Elizabeth Pearson, an infant, of Decatur is pending at Hawkins Funeral Home in Decatur.
SERVICES for Terry Dean Smith, 56, of Decatur and Inal Spencer, 95, of Hillsboro are pending at Hawkins Funeral Home in Bridgeport.
SERVICE for Patricia Crebbs, 76, of Boyd is pending at Hawkins Funeral Home in Boyd.
MEMORIAL service for Sally Jo Browning, 70, of Fort Worth is 1 p.m. Friday at First United Methodist Church in Boyd. Family visitation will follow at the church. Hawkins-Boyd is handling arrangements.
MEMORIAL service for Marshall Fox, 69, of Decatur is 2 p.m. Saturday at First Baptist Church in Decatur. Alexander's Midway Funeral Home in Springtown is handling arrangements.