EARLY VOTING CONTINUES – Early voting for the May 4 city and school elections continues at various locations around the county. Early voting ends next Tuesday. Contested races are featured for Alvord School Board, Aurora City Council, Bridgeport City Council, Chico City Council, Decatur City Council, Decatur School Board and Northwest School Board. A full list of who is on the ballot and early voting locations and times was featured in last weekend's Wise County Messenger.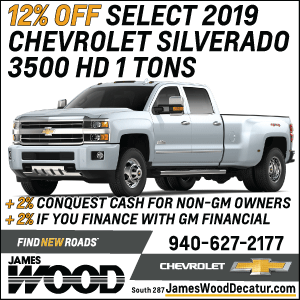 IN THE HUNT – The Decatur boys golf team is in 6th place with a 321, 14 shots back of 3rd place, after the first day of 4A Region I tournament in Lubbock. Dayne Chapman shot an opening round 74 and is 10th individually. Ian Caporale carded an 81. Eric Hudson fired an 82. Bryson Gardner shot an 84. Caleb Bennett turned in a 95. The top three teams and the top three individuals not on the top three teams advance to state.
CEMETERY HOMECOMING – The annual Cottondale Cemetery Homecoming is Sunday. A covered dish lunch is at 12:30 p.m., and the business meeting will be at 1:30. Donations may be made out to Cottondale Cemetery Association and may be mailed to: Cottondale Cemetery Association c/o Marsha Foster, 456 CR 3591, Paradise, TX 76073.
PLANT SALE – Decatur FFA will hold a plant sale 1-5 p.m. Friday and 8 a.m.-noon Saturday at the high school greenhouse. The sale will include annuals, perennials and hanging baskets.
PRE-K, KINDERGARTEN ROUNDUP – Alvord Elementary School will be holding pre-k and kindergarten roundup for the 2019-20 school year 9 a.m.-1 p.m. May 1-2. Pre-K children must be 4 years old as of Sept. 1. Kindergarten children must be 5 years old as of Sept. 1. Proof of residency (utility bill, etc.), birth certificate, Social Security card, current shot record, and driver's license of the adult enrolling the child are required at the time of registration.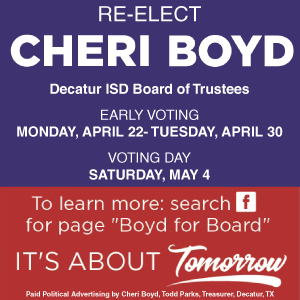 ACTIVE SHOOTER TRAINING – The Decatur Police Department will hold an Active Shooter Training Course 6-9 p.m. Monday at the First Baptist Church of Decatur. The program is designed to provide civilians with training for an active shooter attack whether at work, church, the movie theater or anywhere else they may be. The program will place significance on the church and events that have affected churches across the country and worldwide. Call Lt. Delvon Campbell at 940-393-0300 to RSVP.
BOOK SIGNING – Local author Tricia Draper will be signing her book, "OK, God, Let's Start From Here" 10:30 a.m.-12:30 p.m. Saturday at the Decatur Public Library. Books will be available for purchase. The event will also feature refreshments, gifts and interactive activities. Call Draper at 940-627-8758.
MOBILE FOOD PANTRY IN CHICO – U-Turn World Ministries will host a Tarrant Area Food Bank mobile food pantry 3-6 p.m. today at the church, 306 N. Texas 101 in Chico. An 18-wheeler will deliver food to the location, and the service is available for any family in need in Wise County. The mobile food pantry will be at the church the fourth Thursday every month.
DIABETES EDUCATION – Total Diabetes Care at Wise Health System is having a free diabetes education class 6:30 tonight in the WHS board room, 609 Medical Center Dr., in Decatur. The topic will be "Diabetes Stress – How to manage feelings associated with living with diabetes." Call 940-626-1890.
FUNERALS – Memorial service for Barbara Summers, 102, of Decatur will be at a later date at Fort Sam Houston in San Antonio. Hawkins Funeral Home in Decatur is handling arrangements.
FUNERAL for Donald Burdine, 74, of Alvord is 10 a.m. today at First Baptist Church in Alvord with burial at Alvord Cemetery. Hawkins Funeral Home in Bridgeport is handling arrangements.
FUNERAL for Bonnie Horton, 85, of Paradise is 10 a.m. Friday at the First Baptist Church in Cottondale with burial at Paradise Cemetery. Family visitation is 6-8 tonight at Hawkins-Bridgeport.
SERVICE for Grady Scott, 63, of Bridgeport is 2 p.m. Monday at Jones Family Funeral Home in Bridgeport with burial at East Bridgeport Cemetery. Family visitation is 1 p.m. Monday at the funeral home.
NO SERVICE is planned for Diana Fredrik-Plesman of Richardson. Jones-Bridgeport is handling arrangements.
SERVICE for Christopher David Jackson, 55, of Decatur is pending at Jones-Bridgeport.
SERVICE for Marshall Fox, 69, of Decatur is pending at Alexander's Midway Funeral Home in Springtown.