STORMS BRING HAIL, RAIN – Wise County Emergency Management Coordinator Cody Powell confirmed hail across Alvord, Chico and the northern side of Wise County, ranging from quarter size to baseball size during last night's storms. At one point in the evening, U.S. 81/287 north and southbound lanes near County Road 2395 south of Alvord were shut down due to large amounts of water on the roadway. Two single-vehicle accidents were reported around 11:20 p.m. in the same area. One involved an 18-wheeler with moderate damage. The other involved a van with no reported injuries. The road was reopened in both directions as of 1:02 a.m. Rainfall totals included 4.5 inches in Greenwood with dime to quarter size hail, 1.55 inches in Alvord with golf ball size hail, 1.07 in Decatur, 1.02 in Bridgeport and 0.80 in Cottondale. A flood warning has been issued for the Big Sandy Creek near Bridgeport until late tonight or until the warning is canceled. At 4:15 a.m. Thursday the stage was 11.18 feet, according to the National Weather Service. Flood stage is 12 feet. Minor flooding is forecast. The river should rise above flood stage by Thursday morning and continue to rise to a crest near 12 feet later this morning. The river should fall below flood stage by this afternoon.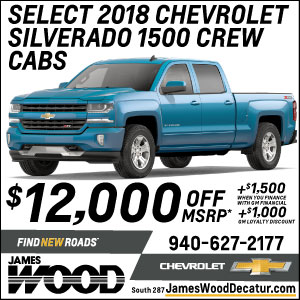 DAZZLING RECORD – Yesterday's Dazzle Me Pink fashion show raised a record total of $74,008. Proceeds from the event go to the Wise Health Foundation to fund the Mary's Gift program.
STATE-BOUND OAP – Slidell High School advanced to their fifth consecutive UIL State One Act Play competition with their win at Keller Central High School. The Greyhounds presentation of Chemical Imbalance advanced with Brady Vanover earning best actor honors. Bailey Meyer received all star cast honors and Warren Johnson and Bailey Keating were honorable mention cast. The cast and crew will be compete at Round Rock McNeil on May 2.
GLITZY GIRLS – The annual Glitzy Girls Trailer Park Event is 10 a.m.-5 p.m. Saturday on the Decatur Square. The event includes vintage travel trailers on display, vendors, food, live music and more.
GOOD FRIDAY CLOSING – Chico City Hall will be closed tomorrow for the Good Friday holiday.
MEETING RESCHEDULED – The Wise County Lupus Support Group meeting for this month has been canceled. The group will meet again June 15.
VOTING DEADLINES – The last day a voter can hand deliver an application for ballot by mail for the May 4 election is Friday. Although most county offices will be closed that day for Good Friday, the Elections Office will be open 8-11 a.m. to receive applications. The deadline to receive a postmarked application is next Tuesday. Early voting in the election begins next week.
BLOOD DRIVE – Wise Health System in Decatur will hold a Carter BloodCare blood drive 8 a.m.-5 p.m. today in the parking lot. For information call June Moore, 940-626-0167, ext. 1238.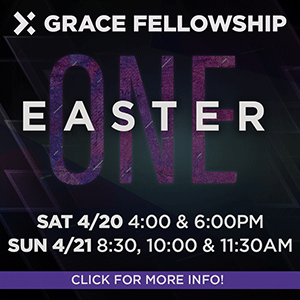 TRIVIA NIGHT – The Decatur Public Library will hold Trivia at Trinity 7 tonight at Trinity Street Coffee Bar on the Decatur Square. Prizes and gift certificates will be awarded to the winners of general trivia. Call the library at 940-393-0290 for more information.
GENEALOGICAL SOCIETY – The Wise County Genealogical Society will meet at 6:30 p.m. Thursday at the Church of Jesus Christ of Latter-day Saints in Decatur. The topic is a webinar – Pain in the Access: More Web for your Genealogy.
HOLY WEEK SERVICES – A number of local churches in the county are holding special Holy Week services in the days leading up to and including Easter Sunday. A schedule of worship events were included in advertisements in the Wise County Messenger's special section – The Easter Story – inserted in the April 13 edition. Copies are still available at the Messenger office.
BAKE SALE – The Wise Health System Auxiliary will hold a Pre-Easter Bake Sale 7 a.m.-1 p.m. Friday in the main lobby of the hospital. A hand-quilted quilt by Eva Ray Tindol will also be raffled. Tickets are $1 each or six for $5.
FUNERALS – Graveside service for Cecil Ward, 85, of Decatur is 11 a.m. today at Oaklawn Cemetery in Decatur. Family visitation is 9:30-10:30 a.m. prior to the service at Hawkins Funeral Home in Decatur.
FUNERAL for Cody Reed, 22, of Decatur is 11 a.m. Friday at the First Baptist Church of Decatur. Family visitation is 6-8 tonight at Hawkins Chapel in Decatur.
MEMORIAL visitation for Charles Wayne "Buddy" Head, 80, of Decatur is 1-3 p.m. Friday at Hawkins Chapel in Decatur.
FUNERAL for Dora Crisp, 78, of Bridgeport is 2 p.m. Friday at the First Methodist Church in Bridgeport with burial at East Bridgeport Cemetery. Family visitation is 6-8 tonight at Hawkins Funeral Home in Bridgeport.
FUNERAL for Jan Buckner, 71, of Chico is 2 p.m. Saturday at Hawkins-Bridgeport with burial at Cumby Cemetery. Family visitation is 6-8 p.m. Friday at the funeral home.
MEMORIAL service for Wayne Harveson, 83, of Bridgeport is 11 a.m. Monday at the First Presbyterian Church in Bridgeport. Hawkins-Bridgeport is handling arrangements.
GRAVESIDE service for Billy Don "BD" Workman, 85, of Bridgeport is 1 p.m. Tuesday at Willow Point Cemetery Pavilion. Family visitation is 6-8 p.m. Monday at Hawkins-Bridgeport.
SERVICE for Christina Delane McBride, 50, of Arkansas is pending at Hawkins Funeral Home in Boyd.
SERVICE for Robert D. Abbott, 85, of Chico is 10 a.m. Friday at First Baptist Church in Chico with burial at Chico Cemetery. Family visitation is 6-8 tonight at Jones Family Funeral Home in Bridgeport.
GRAVESIDE service for Rex Dale Stephenson, 80, of Azle is 10 a.m. Monday at Azleland Memorial Park. Family visitation is 6-8 p.m. Sunday at Biggers Funeral Home in Fort Worth.