DECATUR ELECTIONS – Chris Lowery is returning to the Decatur ISD School Board and will be joined by Thomas Houchin. The two candidates won their elections Saturday decisively. Houchin took the Place 1 race with 729 votes. Stan Shults finished second with 496 and Pete Rivera third with 51. Lowery unseated Place 2 incumbent Cheri Boyd 749 to 551. Boyd had been the school board president since July. The Decatur City Council will welcome two new faces, and possibly a third, following Saturday's election. Melinda Reeves defeated incumbent Randy Parker by a vote of 335 to 258 for the Place 6 at-large seat. Will Carpenter won Place 4 by a vote of 109 to 81 over Eddie Allen. But the race for Place 2 remains too close to call. In that three-person race, Jake Hayes holds a one-vote lead over incumbent Susan Cocanougher, 68-67. Justin Horton received 55 votes. Five provisional ballots and one mail-in ballot for the Decatur elections means there is the potential that the vote total could change.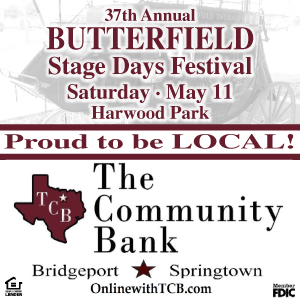 MORE ELECTION RESULTS – Incumbents Bobby Brazier and Billy Fred Walker retained their seats on the Bridgeport City Council. Brazier won the Place 4 race, defeating challenger Vella Alexander 150 to 106. Walker held off challenger Bryson Boyd in the Place 5 race 136 to 123. Chico Mayor Colleen Self won reelection 71 to 50 over Rick Bowling. Rusty Rice held off the challenge from Catey Allen 72 to 55 to win the Place 3 race on the Alvord ISD School Board. In Aurora, Deb Terrell won the Ward II race with 24 votes. Rick Boland received five. Jason Priakos grabbed 72 votes to win the Ward III race, with Rick Smith getting six. DeAnne Hatfield of Justin won Place 1 on the Northwest School Board.
REAL ESTATE VALUES SURGE – Led by a surge in real estate values, tax rolls grew for nearly every Wise County entity based on 2019 value estimates released last week by the Wise County Appraisal District. Only the cities of Fort Worth and New Fairview saw decreases in the preliminary rolls from the 2018 certified rolls due to losses in mineral values. Most other cities and school districts saw double-digit increases in real estate values produce overall preliminary tax roll gains of between 1.75 to 16 percent. Read more in the weekend Wise County Messenger on newsstands now.
FM 730 REOPENS, OTHERS REMAIN CLOSED – Farm Road 730 north of Boyd has been reopened after being closed all weekend due to flooding of the Trinity River. Other roads, including Farm Road 3259 and several county roads, remain closed due to water over the road.
RICHEY WINS UIL HEADLINE WRITING – Bridgeport's Jacob Richey won the 4A title in UIL headline writing. He also was named Tops in Texas as the best headline writer in all classifications. Decatur's Ben Waddill took second in current issues to lead the Decatur team to a bronze medal. Marcus Pena tied for 12th, Chase Wunrow 19th and Nick Bishop 21st. Paradise's Hailey Holt garnered a bronze medal in editorial writing. Cade Pearson also finished third in ready writing. Slidell's computer science team finished third. In computer applications, Tristan Talamantes finished fourth and Callie Paris fifth. Slidell's one-act play finished seventh. Warren Johnson made the all-star cast and Brady Vanover received honorable mention.
DIABETES CLASS – Total Diabetes Care at Wise Healthcare is now offering monthly diabetes education classes on the first Monday of the month at Wise Clinical Care, 2202 U.S. 380 Suite 112, in Bridgeport. This month's class is at 3 p.m. today. The prediabetes class is at 4 p.m. The classes are intended to help educate those with diabetes better understand and manage the disease. Contact Dick Gilley for information, 940-626-1890.
ALZHEIMER'S SUPPORT GROUP – The Wise Alzheimer's Group will meet at 7 p.m. Tuesday in the boardroom at Wise Health System's West Campus in Decatur. Learn from others who have been there and share your experiences. For information, call Richard at 940-255-0244.
STATE TRACK – A special feature on local state track qualifiers is featured in the sports section of the weekend Wise County Messenger on newsstands now.
FUNERALS – Services for Sidney Hancock, 86, of Decatur and Paul Kobbeman, 36 of Rhome are pending at Hawkins Funeral Home in Decatur.
SERVICE for Ruth Elizabeth Pearson, an infant, of Springtown is 11 a.m. Friday at Oaklawn Cemetery. Memorial is 2 p.m. Friday at U Turn World Ministries in Chico. Hawkins-Decatur is handling arrangements.
FUNERAL for Riser Wayne Richey, the infant son of Neil and Rose Richey of Chico, is 10 a.m. Wednesday at the First Baptist Church of Decatur with burial at Crafton Cemetery. Hawkins-Decatur is handling arrangements.
SERVICE for Billy Garner, 84, of Bridgeport is 3 p.m. today at Hawkins Funeral Home Chapel in Bridgeport with burial at East Bridgeport Cemetery.
GRAVESIDE service for Freeda Duffle, 97, of LaVernia is 2 p.m. Tuesday at Willow Point Cemetery. Family visitation is 6-8 tonight at Hawkins-Bridgeport.
SERVICE for Linda Whitmarsh, 63, Poolville is pending at Hawkins-Bridgeport.
SERVICE for Patricia Crebbs, 76, of Boyd is pending at Hawkins Funeral Home in Boyd.