ATHLETES EARN STATE MEDALS – Alvord's Jared Johnson earned a silver medal in the 2A 100 Saturday at the UIL track and field championships. Bridgeport's Jadon Maddux brought home a bronze in the 200 and finished fifth in the 100. Decatur's Triston Read grabbed a bronze in the 800. Decatur's 4×400 finished fifth and the 4×100 was sixth. Alvord's Christina Thomas was seventh in the 2A discus. Jocelyn Tambunga was ninth in the 100 hurdles.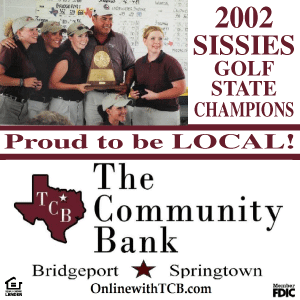 WEEKEND RAIN REPORT – Rainfall totals from Friday night/Saturday morning included 0.85 of an inch in Cottondale, 0.78 in Decatur, 0.7 in Greenwood and 0.65 in Bridgeport and Alvord. Skies are expected to remain sunny this week with highs in the low- to mid-80s each day. Rain chances return this weekend.
PARADISE HISTORICAL SOCIETY – The Paradise Historical Society with have their bi-monthly meeting 7 p.m. Tuesday at the fellowship hall of the First Methodist Church in Paradise. Guest speaker will be Dr. Paul Utley, superintendent of Paradise ISD. He will be sharing "Paradise ISD – Past, Present and Future."
RETIREMENT RECEPTION – Alvord ISD is hosting a come and go retirement reception honoring Coach Pete Hart 4-6 p.m. Wednesday in the Alvord High School cafeteria. There will be cake and punch.
DECATUR CITY COUNCIL – Three new members – Jakes Hayes, Will Carpenter and Melinda Reeves – will be sworn in to the Decatur City Council at tonight's meeting following the May 4 election. Tonight's 23-item agenda includes a number of planning and zoning items as well as a request by a citizen for the city to consider an ad valorem tax rate freeze for property owners over age 65. The meeting is at 6 p.m. at city hall.
DECATUR ISD TO SWEAR IN TRUSTEES – After winning the May 4 election, trustees Chris Lowery and Thomas Houchin will be sworn in at Decatur ISD's meeting at 6 tonight. The board will then select officers.
BOYD ISD TO DISCUSS SUPERINTENDENT – The Boyd ISD trustees will discuss the superintendent job at their 6:30 meeting tonight. Current superintendent Ted West has been named lone finalist in Electra.
KINDERGARTEN REGISTRATION – Bridgeport Elementary School will be having pre-K and kindergarten registration for new students from 4-6:30 p.m. today and Thursday at the school. To register, bring birth certificate, social security card, current shot record, proof of residence, picture ID of the person doing the enrollment and the student. Call 940-683-5955.
COALITION MEETING – The Wise County Community Coalition meets at noon today at Pizza Hut in Decatur. Guest speaker will be Decatur Mayor Martin Woodruff.
DEMOCRATIC MEETING – The Wise County Democratic Party will meet 6:30 p.m. Tuesday at the Decatur Conference Center (in the Chisholm Suites). The group invites those concerned about healthcare costs, supporting public education, safe drinking water and equality. Call Janet Akers-Amos, 940-399-7352 or visit www.wisedemocrats.com.
FUNERALS – Graveside for Gerald Stephens, 63, of Decatur is 11 a.m. Tuesday at Greenwood Cemetery. Hawkins Funeral Home in Decatur is handling arrangements.
FUNERAL for Shirley E. McWhirter, 80, of Decatur is 10 a.m. Friday at Hawkins-Decatur with burial at Oaklawn Cemetery. Family visitation is 6-8 p.m. Thursday at the funeral home.
GRAVESIDE for Ruth Elizabeth Pearson, the infant daughter of Jordan and Lexie Pearson of Springtown, is 11 a.m. Saturday at Oaklawn Cemetery in Decatur. Memorial is 1 p.m. Saturday at U-Turn World Ministries Church in Chico. Hawkins-Decatur is handling the arrangements.
MEMORIAL service for Lloyd Grimes Jr., 83, of Newark is 4 p.m. Saturday at First Baptist Church Newark. Hawkins-Decatur is handling arrangements.
SERVICE for Laura Rueda, 47, of Decatur is pending at Hawkins Funeral Home in Bridgeport.
FUNERAL for Billy Ray Gray, 81, of Boyd is 2 p.m. Tuesday at First Baptist Church Boyd with burial at Boyd Cemetery. Family visitation is 6-8 tonight at the church. Hawkins Funeral Home in Boyd is handling arrangements.
SERVICE for Janice Derrington, 75, of Bridgeport is 10 a.m. Saturday at Jones Family Funeral Home in Bridgeport with burial at noon Saturday at Cottonwood Cemetery in Bryson.
SERVICE for Johnny Talley, 67, of New Fairview is pending at Jones-Bridgeport.