WEEKEND RAIN TOTALS – Saturday's storms brought some much-needed rain to our area. Rainfall totals included 0.5 of an inch in Alvord, 0.41 in Bridgeport and 0.33 in Decatur. The work week is expected to remain dry, but storm chances return on Saturday. We will see quite the warm up this week with high temperatures expected to be in the mid- to upper-80s by the middle of the week.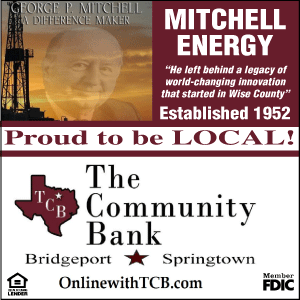 DIABETES CLASSES – Total Diabetes Care at Wise Health System will hold diabetes education classes in Alvord today. The beginner class will be offered at 3 p.m., and the advanced class will be offered at 4 p.m. Both classes will be held at the First Baptist Church. The classes are intended to help those with diabetes better understand and manage the disease. Classes are free and will be taught by Dick Gilley RN, CCRN, CDE. No RSVP required. Call Gilley at 940-626-1890.
DEMOCRATIC MEETING – The Wise County Democratic Party will meet 6:30 p.m. Tuesday at the Decatur Conference Center. The group invites those concerned about healthcare costs, supporting public education, safe drinking water and equality. Call Janet Akers-Amos, 940-399-7352 or visit www.wisedemocrats.com.
SCV MEETING – The Sons of Confederate Veterans meet 6 p.m. Tuesday at Catfish O'Harley's in Decatur. Wives and guests are welcome. Charlotte Canion, author of the book "You Have to Laugh to Keep From Crying," will be guest speaker.
COMMUNITY COALITION MEETING – The Wise County Community Coalition meets noon today at Pizza Hut in Decatur. Graham Bateman with Justice for Our Neighbors will speak about immigration.
REPUBLICAN MEETING – The Wise County Republicans and Wise Republican Women will hold their monthly meeting at 6:30 tonight in the courtroom located at the Wise County Sheriff's Office in Decatur. These organizations meet the second Monday of the month. For information, visit www.wiserepublicans.com or Wise Republican Party-Wise County, TX on Facebook.
MEET THE NEW AD – Alvord ISD will host a Meet and Greet for new Athletic Director Scott Smiley 6:30-7:30 tonight. The come-and go-event at the high school cafeteria is open to all students, parents, faculty, staff and community members.
DECATUR CITY COUNCIL – The Decatur City Council tonight will consider a request by Waste Connections for a price increase. The council will also consider a number of planning and zoning items. The meeting is at 6 p.m. at city hall.
ALL-WISE BASKETBALL – The Saturday edition of the Wise County Messenger features our annual All-Wise Basketball Team. Pick up a copy on newsstands today.
FUNERALS – Service for Billy Hotz, 83, of Decatur is pending at Hawkins Funeral Home in Decatur.
GRAVESIDE service for Wayne Stockton, 86, of Decatur is 10 a.m. today at Oaklawn Cemetery in Decatur. Hawkins-Decatur is handling arrangements.
SERVICE for Conrad James Meadows, 85, of Carrollton will be held at a later date. Hawkins Funeral Home in Bridgeport is handling arrangements.
GRAVESIDE service for Bobby Gene St. John, 77, of Alvord is 10:30 a.m. Wednesday at Cumby Cemetery in Chico. Family visitation is 6-8 p.m. Tuesday at Hawkins-Bridgeport.