FINAL PURSUIT SUSPECT ARRESTED – The last remaining suspect who fled from a pursuit last Thursday was arrested Saturday. The Wise County Sheriff's Office reported that Alejandro Pedroza, 30, of El Paso was spotted by a land owner north of Alvord Saturday and held at gun point until officers arrived. Pedroza was taken to the Wise County Jail and charged with evading arrest or detention with a vehicle in addition to warrants out of El Paso for engaging in organized criminal activity involving three or more persons with intent to distribute methamphetamine, manufacturing/delivering a controlled substance in penalty group 1 less than 1 gram and unlawful carrying of a weapon. He remained in the Wise County Jail Monday morning with total bond set at $750,000. Three other men in the vehicle were arrested Thursday after trying to run from the vehicle after it crashed on U.S. 81/287 north of Alvord.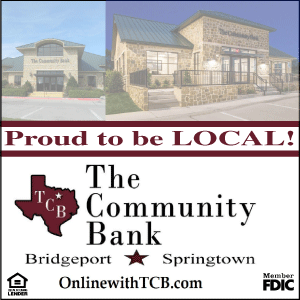 ADVANCING TO STATE – Five individuals and three relay teams from three schools will represent Wise County in Austin at the state track meet. They include Alvord athletes Christina Thomas in discus, Jared Johnson in 100-meter dash, Jocelyn Tambunga in 100 hurdles and the 4×100 relay team of Tanner Richey, Clayton Machal, Ransom Klein and Johnson. From Decatur, Triston Read advanced in the 800 as did the 4×100 relay team of A.J. Martinez, Shay Dubois, Jackson Carroll and Will Quintana and the 4×400 relay team of Read, Noah Young, Jared Allison and Martinez. From Bridgeport, Jadon Maddux advanced in the 100-meter dash and the 200-meter dash.
LADY BULLDOGS ADVANCE – The Alvord Lady Bulldogs blasted Santo 15-2 in five innings Saturday night, sweeping the 2A Region II bi-district series. It is Alvord's first bi-district softball title since 2016.
LADY PANTHERS RALLY FOR WIN – After dropping the first game of the 3A Region I bi-district softball series to Holliday Wednesday night, Paradise rallied to win Game 2, forcing a decisive Game 3 Saturday morning. With their season at stake, the Lady Panthers never trailed, taking down Holliday 6-1 to claim the bi-district crown.
GOSPEL OPRY – The monthly Gospel Opry Sing-Along program is 6:30 tonight in the G.C. Rann Auditorium of the Wise County Heritage Museum in Decatur. Admission is free. An offering will be accepted to be used toward expenses of the museum.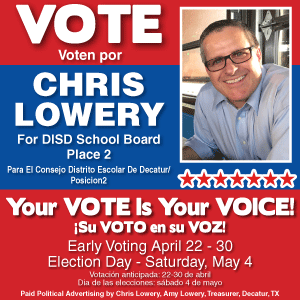 STORY TIME – Rhome Public Library will host Story Time 11 a.m. Wednesday. This special story time hour will feature several Rhome Fire Department firefighters teaching the children about fire safety. The fire truck will also be on display. All ages are invited.
KINDERGARTEN ROUNDUP – Decatur ISD's Carson, Rann and Young Elementary schools will hold kindergarten roundups at 5:30 p.m. Tuesday for parents to complete school registration for the fall. Visit decaturisd.us/kinderroundup to enroll a kindergarten student.
FUNERALS – Service for Calvin Woolaver, 94, of Krum is pending at Hawkins Funeral Home in Decatur.
SERVICE for Grady Scott, 63, of Bridgeport is 2 p.m. today at Jones Family Funeral Home in Bridgeport with burial at East Bridgeport Cemetery. Family visitation is 1 p.m. today at the funeral home.
GRAVESIDE services for Danny Lee Stafford, 66, of Paradise is 2 p.m. Wednesday at Paradise Cemetery. Jones-Bridgeport is handling arrangements.
MEMORIAL service for Marshall Fox, 69, of Decatur is 2 p.m. Saturday at First Baptist Church in Decatur. Alexander's Midway Funeral Home in Springtown is handling arrangements.