VOTE ON SATURDAY – City council and school board elections will be held tomorrow. Polls will be open 7 a.m.-7 p.m. A full list of who is on the ballot and voting locations was featured in the midweek Wise County Messenger still available on newsstands. Election results will be posted at WCMess.com/election Saturday night as soon as they are available.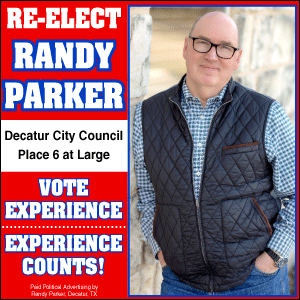 RELAY FOR LIFE – Relay for Life will start at 6 p.m. today on the Decatur square with the opening ceremony and the survivor lap. Along with the relay, a 42 tournament, water balloon toss, pie-eating contest and auction are scheduled. Luminaria will be sold until 8:30 p.m. They will be lit at 9 p.m. If there is inclement weather, the 42 tournament will be moved to the Decatur Senior Center. Other events will take place at the Decatur Visitors Center and the in the building next to Trinity Street Coffee on the corner of Trinity and Walnut.
STORMS AGAIN IN FORECAST – We've got an 80 percent chance of more rain today. With the ground already saturated, any additional rainfall could lead to flash flooding. Yesterday's rain amounts included 0.46 of an inch in Bridgeport and 0.22 in Decatur.
PETER MAYHEW DIES – Peter Mayhew, the actor who played Chewbacca in the original Star Wars trilogy and in the Force Awakens, died Tuesday at his home in Boyd. His family released a statement Thursday on his passing. He was 74.
FOOD TRUCK CHALLENGE – The 3rd Annual Eighter from Decatur Food Truck Challenge is 10:30 a.m.-10 p.m. Saturday in downtown Decatur. Decatur Chamber of Commerce Director Misty Hudson expects more than a dozen trucks this year with a wide variety of menus. There will be a kid's zone to keep the little ones entertained and live music by Deep In It and Downtown Royalty. For tickets, visit eighterfoodtruckchallenge.com.
SPRING VENDOR BLENDER – The Spring Vendor Blender with more than 20 local vendors will be from 9 a.m. to 4 p.m. Saturday at the Boyd Community Center.
CITY CLEANUP – The City of Boyd will hold its annual spring cleanup Saturday. Starting at 7:30 a.m. the city will have large dumpsters available at 731 E. Rock Island to collect household trash, appliances without freon, furniture, brush and general debris. Residents must bring proof of residency. Boyd High School students will also be working throughout the community during its Big Event.
VETERANS BREAKFAST – The Wise County Veterans Group Breakfast is Saturday at the Decatur Conference Center. Breakfast is 8 a.m., but veterans are invited to arrive at 7:30 for visiting and coffee. Cost is $8.
YOUTH ART SHOW – The Wise County Art Association's 2019 Youth Art Show is 1-3 p.m. Saturday at the Decatur Conference Center. Three $1,500 scholarships will be awarded to 2019 Wise County graduating seniors. Admission is free.
CRUISE NIGHTS – Cruise Nights on the Courthouse Square returns Saturday. Registration is 4-7 p.m. Stores and restaurants are open late. The event is put on by the Decatur Main Street program.
SCRAPBOOKING – The MZ Bee, which will feature scrapbooking and crafting, is 10 a.m.-4 p.m. Saturday in the fellowship hall at Mount Zion Baptist Church, 615 County Road 1280. Attendees will bring their own projects, lunch and snacks. There is no charge, but donations can be made to the church's food pantry ministry for backpacks and Alvord Meals on Wheels. Call 940-627-5103 or 940-427-5941.
SYCAMORE CEMETERY MEETING – The annual work day and business meeting of the Sycamore Cemetery Association is 9 a.m. Saturday at the cemetery.
LONE STAR CEMETERY MEETING – The annual meeting of the Lone Star Cemetery Association is 10 a.m. Saturday at the cemetery.
FUNERALS – Service for Ruth Elizabeth Pearson, an infant, of Decatur is 11 a.m. today at Oaklawn Cemetery. Memorial is 2 p.m. at U Turn Ministries in Chico. Hawkins Funeral Home in Decatur is handling arrangements.
SERVICE for Billy Garner, 84, of Bridgeport is pending at Hawkins Funeral Home in Bridgeport.
SERVICE for Inal Spencer, 95, of Bridgeport is 11 a.m. Saturday at Joplin Baptist Church with burial at Joplin Cemetery. Family visitation is one hour prior to the service at the church. Open visitation will also be today at Hawkins-Bridgeport.
SERVICE for Terry Dean Smith, 56, of Decatur is 2 p.m. Saturday at Hawkins Chapel in Bridgeport, with burial at East Bridgeport Cemetery. Family visitation is 6-8 tonight at the funeral home.
SERVICE for Patricia Crebbs, 76, of Boyd is pending at Hawkins Funeral Home in Boyd.
MEMORIAL service for Sally Jo Browning, 70, of Fort Worth is 1 p.m. today at First United Methodist Church in Boyd. Family visitation will follow at the church. Hawkins-Boyd is handling arrangements.
MEMORIAL service for Marshall Fox, 69, of Decatur is 2 p.m. Saturday at First Baptist Church in Decatur. Alexander's Midway Funeral Home in Springtown is handling arrangements.