ATTEMPTED CAPITAL MURDER ARREST – A Lake Bridgeport man is facing an attempted capital murder charge after attacking and injuring two Wise County Sheriff's Office deputies Thursday evening. Terrance Boden, 31, was arrested and taken to Wise County Jail. He was awaiting arraignment Friday morning and no bail had been set. Wise County Sheriff Lake Akin said the two deputies, Lance Schoenthal and Vince Struve, were taken to Wise Health System with non-life threatening injuries, including a possible broken toe and knee injury. Akin said one of the deputies was having difficulty breathing after being placed in a choke hold by Boden, leading to the charge of attempted murder. The deputies were responding to a disturbance call on Minnow Street in Lake Bridgeport and encountered Boden.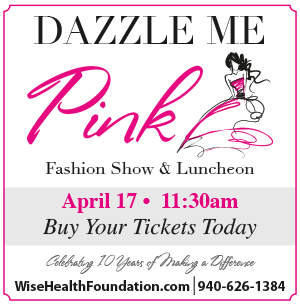 LAKE DEATH INVESTIGATION – A deceased man was found in Lake Bridgeport Thursday afternoon in the area of Private Road 1758 at the northern edge of the lake. The body was found by a fisherman shortly before 3 p.m., according to Texas Game Warden David Pellizzari. "Another fisherman heard what sounded like a boat going around in circles," Pellizzari said. "He found a small aluminum boat lodged in a tree and saw what he thought was a body in the water." Officers arrived by boat and recovered the body near Big Creek. Kim Redman, Wise County Precinct 2 justice of the peace, pronounced the man dead. The body was sent to the Dallas County Medical Examiners Office for an autopsy. "We're working it as a boating accident with the fatality of the single occupant. There's no reason to believe there was anyone else in the boat," Pellizzari said. "Our investigation will center around how he ended up in the water." The identification of the deceased is being withheld pending notification of the next of kin. Pellizzari encourages all boat occupants to wear a life jacket.
STORMS IN WEEKEND FORECAST – According to the National Weather Service, Wise County has an 80 percent chance of showers and thunderstorms Saturday, and some storms could be severe. A smaller chance of storms will remain in the forecast through Sunday night.
BARK, BIKE AND BREW – Bridgeport Main Street and Bridgeport Chamber of Commerce present Bark, Bike and Brew Saturday. The bike ride starts at 7 a.m. The rest of the festivities begin at 10 a.m. A pet parade is at 11 a.m., pet costume contest at 10:30 a.m. and the official spokespet contest at 12:30 p.m.
VOLUNTEERS NEEDED – Amy's Wish for Wings is looking for volunteers for their special needs equine therapy program starting up in Paradise. Volunteers must be 14 years and older and be in good physical shape to walk 45 minutes at a time. No horse experience is necessary, although it is welcome. The next training session is 2-4 p.m. Saturday at 117 Private Road 3376 in Paradise off School House Road. Visit amyswishwithwings.com to fill out the volunteer paperwork and send to amyswishwithwings@gmail.com or text 817-999-8332 for more information.
MEET THE NEW AD – Alvord ISD will host a Meet and Greet for new Athletic Director Scott Smiley 6:30-7:30 p.m. Monday. The come-and go-event at the high school cafeteria is open to all students, parents, faculty, staff and community members.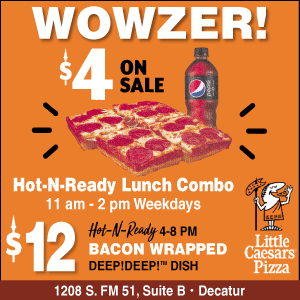 LIBRARY EVENTS – Two events will be held at the Decatur Public Library Saturday. Dad Storytime at 10:30 a.m. will allow Dad to spend time with the kids while Mom gets some time to herself. Ms. Dawn and Chris Mercer, Decatur firefighter, will read stories. Storytime will be followed by a craft. A Teen Jam Session will be held 2-4 p.m. Teens are invited to bring their guitars for an after-hours jam session. If you are not a guitar player, bring your own portable instrument to play – drums, keyboard, etc. Call 940-393-0290.
TRAINING OFFERED – Wise County Christian Counseling will offer an Enneagram training 9 a.m.-5 p.m. Saturday. Cost is $30 per person. Call 940-627-1618.
SCRAPBOOKING – The MZ Bee, which will feature scrapbooking and crafting, is 10 a.m.-4 p.m. Saturday in the fellowship hall at Mount Zion Baptist Church, 615 County Road 1280. Attendees will bring their own projects, lunch and snacks. There is no charge, but donations can be made to Meals on Wheels. Call 940-627-5103 or 940-427-5941.
BASKETBALL TOURNAMENT – The 17th annual DJWC Wise Hoops Basketball Tournament is today at the Decatur Middle School Multipurpose Building. Check-in starts at 4 p.m., and games will begin at 5. Deadline for registration is 6 p.m. Thursday. Register online at eventsdjwc.com. Contact Andria Williams at 940-389-1916 for more information.
HEROES RUN – The Heroes for Hunger 5K and fun run is Saturday at Chisholm Trail Middle School in Rhome. Registration starts at 7 a.m. The run begins at 8. Proceeds will benefit Feeding Wise Kids and food programs at local churches. Call Kristin Archer, 817-715-4445.
BOOT DRIVE – The Chico Community Volunteer Fire Department will hold a boot drive at the intersection of Farm Road 1810 and Texas 101 beginning at 8 a.m. Saturday and Sunday as a department fundraiser.
VOLUNTEERS NEEDED – Made 2 Thrive (special needs baseball) season will begin Saturday and will run through May 25. Games are 9-11 a.m. every Saturday morning at Kenny Renshaw Park located on FM 51 in Decatur. The organization is in need of volunteers. If interested in volunteering contact Claudia Davila at butterfly8480@gmail.com.
PLANT SALE – Decatur FFA will hold at plant sale noon-5 p.m. Friday and 8 a.m.-noon Saturday at the school greenhouse behind Decatur High School. Plants were grown by students enrolled in horticulture science. Spring plants include annuals, perennials, hanging baskets, color containers, tomato plants, and more.
PROM PHOTO TIME – A Decatur High School tradition will continue Saturday on the Courthouse Square as students gather for the annual prom photos. Joe Duty will take photos and offer free digital downloads. Call Duty at 817-999-3141.
CONCERT – First Baptist Church Decatur will host Horizon, a joint concert with 100 plus singers, live band and guest artist at 5:30 p.m. Sunday. The concert is free.

FUNERALS – Memorial service for H. Glenn Walker, 62, of Decatur is 10:30 a.m. Saturday at Hawkins Funeral Home Chapel in Decatur.
MEMORIAL service for Michael O. Wingert, 70, of Farmers Branch is noon Saturday at Open Range Cowboy Church in Krum. Hawkins-Decatur is handling arrangements.
MEMORIAL service for Richard Dodson Mote, 68, of Aurora is 1 p.m. Saturday at Hawkins-Decatur.
GRAVESIDE service for Wayne Stockton, 86, of Decatur, is 10 a.m. Monday at Oaklawn Cemetery in Decatur. Family visitation is 4-6 p.m. Sunday at Hawkins-Decatur.
SERVICE for Wayne Harveson, 83, of Bridgeport is pending at Hawkins Funeral Home in Bridgeport.
SERVICE for Conrad James Meadows, 85, of Carrollton will be held at a later date. Hawkins-Bridgeport is handling arrangements.
FUNERAL for L. W. "Hoss" Gilbert, 80, of Boyd is 10 a.m. Saturday at The Church of Christ in Boyd with burial at Boyd Cemetery. Family visitation is 6-8 tonight at the church. Hawkins Funeral Home in Boyd is handling arrangements.
GRAVESIDE for Rhonda K. Leatherwood, 65, of Boyd is 2 p.m. Saturday at Boyd Cemetery. Family visitation is 6-8 tonight at Hawkins-Boyd.
SERVICE for Elsie Marie Kennedy, 89, of Chico is 3 p.m. Sunday at Jones Family Funeral Home in Bridgeport with burial at West Bridgeport Cemetery. Family visitation is 2-3 p.m. Sunday at the funeral home.
FUNERAL for Ella Mae Russell, 82, of Bridgeport is 2 p.m. Saturday at Jones-Bridgeport with burial at East Bridgeport Cemetery. Family visitation is 1 p.m. Saturday at the funeral home.