"Live United" was the theme as the United Way held its annual 2012-13 Campaign Kickoff Thursday at the Decatur Civic Center. All but a handful of the 26 agencies that receive funding came out and set up displays starting at around 10:30 a.m., and a luncheon brought the event to a rousing conclusion.
But the work is just starting.
"We kick it off officially with this event, but we actually start making contacts the first part of August, once the board set the goal at their July meeting," United Way executive director Martin Woodruff said Friday. The campaign runs through the end of the year, with a goal of raising $450,000.
"I thought we were successful in stating our case, trying to get the message out about what we do," Woodruff said.
Those who attended heard brief remarks from several local volunteers, as well as a stirring testimony from Arcadio Viveros, CEO of Community Health Centers of North Texas, which in February opened the first federally-qualified health clinic in Wise County. The United Way played a vital role in the clinic's opening and has budgeted $75,000 to support it in the coming year.
That makes it the biggest recipient of United Way funds.
"When people ask the question, 'Why give to the United Way instead of just supporting these individual agencies?' – Community Health Center is a good example," Woodruff said. "The United Way's job is not only to support the agencies that are here, but to address issues and needs that no one is currently meeting."
Startup funds from the United Way, along with help from Wise Regional Health System and others, convinced the Fort Worth-based clinics to open a Decatur campus.
United Way President Andrew Rottner, in his opening remarks Thursday, cited not only the Community Health Center, but the way the county came together in March to raise $190,000 to support the county's volunteer fire departments.
And just like those firefighters, Rottner said the agencies that serve people are the real heroes.
"Our job is to go out and raise funds, but the agencies and volunteers are really the ones who work to make this community a better place," he said. "Our thanks goes out to you.
"I would encourage anyone to go out and meet with the people at any of these agencies," he added. "It's a real eye-opening experience."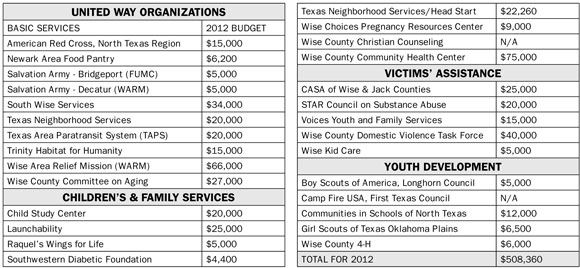 The United Way of Wise County is looking for funds, not for just one good cause, but for more than two dozen.